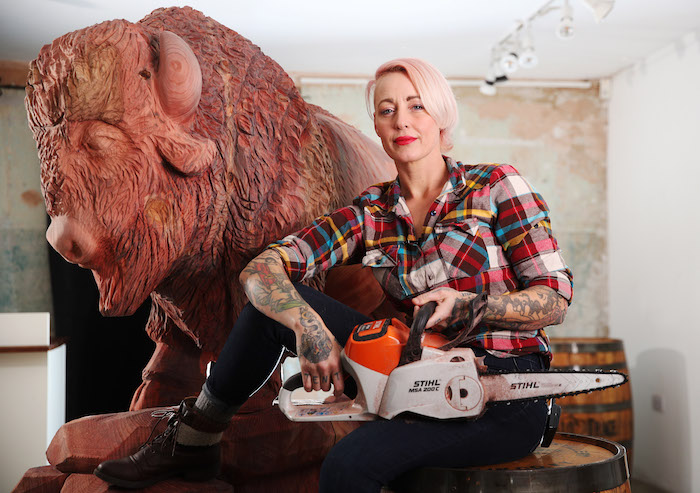 Buffalo Trace have engaged creative agency, Taylor Herring to promote its multi award-winning whiskey bourbon label.
Buffalo Trace Bourbon Whiskey hosted America's leading chainsaw artist – who has previously been described as "a rock star with a chainsaw" by Vice Magazine – at a live exhibition from 13th– 15th December at StolenSpace, Shoreditch.
Famed for her edgy and bold style, Griffon Ramsey brings a slice of America to London with a live chainsaw carving exhibition, where the public watched as she created a unique work of art over the course of 30 hours.
The exhibition is hosted by Buffalo Trace – who pride themselves on honouring tradition while embracing change – and brings a flavour of the bourbon whiskey's Kentucky heritage to the UK as Griffon sculpts a giant buffalo from red wood trunks.
She created the masterpiece using a gas-powered chainsaw to carve the body of the buffalo and then used an electric chainsaw for the finer details and to create the defining features.
Griffon was selected to produce the masterpiece due to her dedication to craftsmanship, which emulates the distillery workers' commitment to their craft. A commitment that has earned Buffalo Trace award-winning status, having been named the world's best Distillery nine times in the last 14 years.
Artist Griffon Ramsey said; "I'm thrilled to be visiting London to carve this one of a kind piece of art. Buffalo Trace has posed a really exciting challenge, and as the art form is very performance based, a live exhibition is a fantastic way to show off the craftsmanship behind how a piece of chainsaw art is created."
Kris Comstock, Buffalo Trace Distillery Senior Marketing Director said: "We're thrilled to be bringing the American heritage and craftmanship of Buffalo Trace to life in the UK in such a unique way. We pride ourselves on honouring our whiskey heritage, while embracing change. The independent spirit of pioneers built our distillery, so what better way to show off our heritage by bringing one of the best innovators in the US respected art form to the UK."
Previously referred to as "a totally badass artist who knows how to handle a chainsaw" (Metro), Texas-based artist Griffon has built up a worldwide following throughout her career.
Influenced by her grandfather who was a whittler, Griffon took up wood carving at school but it was only eight years ago when she picked up a chainsaw for the first time.  Since then she has competed across the globe in championships from Scotland to Texas, carving against the crème de la crème of artists within the industry and has gone on to win multiple championships including the People's Choice Award in the Australian Chainsaw Carving Championship.
At the Scottish Open Chainsaw Carving Championships, she was one of only three women who took part in the competition and credits the industry as a niche art form, but thinks it has a "tremendous potential for growth."
Her style includes carving popular culture characters, having previously carved the bearded women Lettie Lutz from The Greatest Showman and the Where the Wild Things Are animals.  Her carving of an Eastern red cedar trunk into Groot from Guardians of the Galaxy saw her gain even more fans, with the video of the carving being shared across the world and watched over 300,000 times.