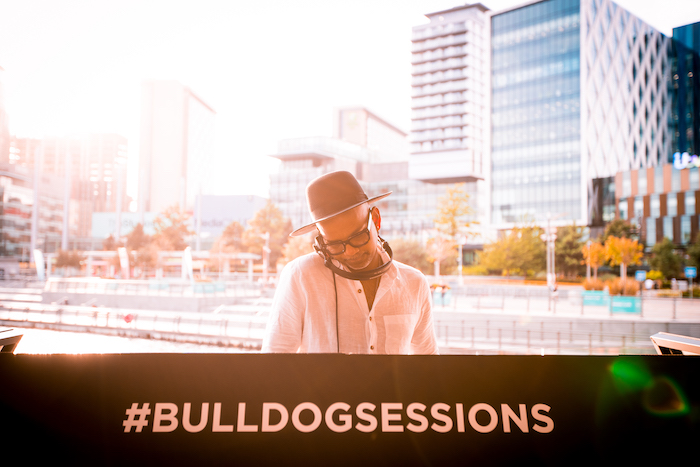 Campari Group's Bulldog Gin, has partnered with  venues across the UK to continue its inaugural Sunset Sessions campaign.
This year's Sunset Sessions campaign is an evolution of the Bulldog Brunch and Sunset Sessions of 2017 and 2018; as seen in Time Out, Elle and DJ Magazine. As the lead gin entering new occasions, the Sunset Sessions campaign is part of Bulldog Gin's wider and category disruptive support for the music industry. This includes partnerships with Nordoff Robins, Pikes Ibiza and DJ Magazine and 2019's highly coveted introduction of the Bulldog Yard at Field Day Festival.
In forming the Sunset Sessions, Bulldog Gin shows dedicated support to the community of influential venues, bartenders, musicians and artists who have helped catapult the once independently owned gin brand to the globally prestigious premium gin that it is today. Whilst continuing to disrupt the traditional gin category.
The Sunset Sessions will take place across 40 leading venues in the UK including Queen of Hoxton, Big Chill, Oslo, Buster Mantis, Pedlar (Sheffield), Novikov, Chip Shop, and Stealth (Nottingham).
Bulldog Gin have also enlisted a tribe of high-profile and up-and-coming DJ talent such as Soho House's Musical Director and resident DJ , Will Smith, Ushuaia Ibiza's regular DJ, Scarlett, Digital Editor of DJ magazine, Charlotte, Tony Perry and Karistocat; to bring Bulldog Gin's Balearic spirit to their UK freedom seekers and premium on-trade venues.
Guests will be offered an array of experiences including photo-moments, bespoke cocktails and Bulldog Gin goodies. Designed to engage the millennial audience, Bulldog Gin's bold and high-energy characteristics, alongside their prolific super-charged serve – The Supersonic Gin & Tonic, guarantee a night to remember.
Nick Williamson, marketing director of Campari UK says of the initiative: "Bulldog Gin's Sunset Sessions has shown all parties involved how best to integrate and complement each brand and location to create an interesting, exciting and session-able series of events. The Sunset Sessions continues to be successful across the UK, drawing in engaged consumers whilst offering our already established audience those sought-after euphoric moments."