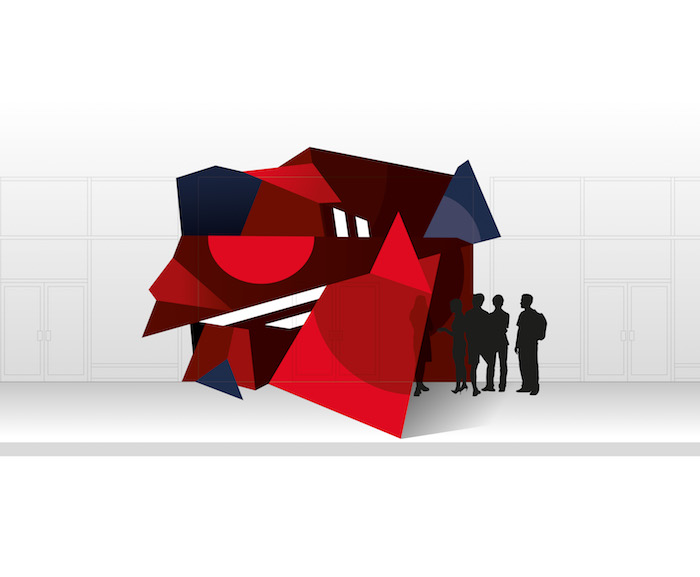 Campari Creates returns, presenting The Mostra – a unique experience that invites guests to step inside a Campari-inspired art installation. Designed by abstract artist Mark McClure, visitors will be immersed in a constantly shifting environment as they explore the installation, whilst enjoying Campari cocktail creations. Running from 18th – 30th September 2018, Campari Creates: The Mostra will be located on Dray Walk, just off London's Brick Lane, Shoreditch.
Mark McClure's design has been inspired by the effect of light in a cocktail; the transparency of colour, the shifting light and the translucent effect that happens to the liquid within the glass. The unique design means that visitors to The Mostra will experience the feeling of being inside a Campari cocktail.
Crafted by Campari's Italian Brand Ambassadors, the bar will serve three of London's favourite Campari cocktails – the timeless Negroni, the perfect mix of Campari, Vermouth and Gin, the Campari G&T, a Milanese twist on the British classic, plus the Negroni Sbagliato, the 'wrong Negroni', with Sparkling Wine replacing the Gin.
As an extension of Campari's commitment to championing creativity, during the residency, there will be a selection of Campari inspired events including the Campari Creates Lecture Series and Campari Creates: Perfect Cocktail Masterclasses.   The Campari Creates Lecture Series will host a series of talks at The Mostra – from Mark McClure and a number of other creative minds. Tickets to the Lecture Series include a complimentary Campari cocktail.
experiences include:
Cocktail Creates: Perfect Cocktails Masterclass, various dates and times – £20
Learn the story behind some of Campari's most famous cocktails and how you can create them at home, a one-hour masterclass with Campari Brand Ambassadors; each ticket includes three cocktails to enjoy at Campari Creates throughout the masterclass.
 Mark McClure, Saturday 22nd September– FREE
The artist behind The Mostra will give insight into the creation of Campari Creates: The Mostra, and how Campari's creative credentials were his source of inspiration.  The session will also include details on his artistic process and how designs are developed from concept to the finalised installation.  Mark will also give an overview of other projects in the pipeline as well as a brief Q&A.
Tom Dixon, Wednesday 19 September, 12-1pm – FREE
A one-hour masterclass with leading designer Tom Dixon; learn the story being his success, how his company has evolved and what inspires him to be creative.   The session will include a brief over view of his activity during London Design Festival and a Q&A.
 Roberta Cremoncini, Estorick Gallery, Wednesday 26th September 12-1pm – FREE 
This Lecture Series will discuss the famous Campari Galleria in Milan, with insight on the collections displayed there and the evolution of the Campari art and design showcased in the gallery over the years.   The talk will also touch on the recent 'Art of Campari' exhibition that recently closed at the Estorick Collection.
Entry to The Mostra is free, with all Campari cocktails priced at £7.00.