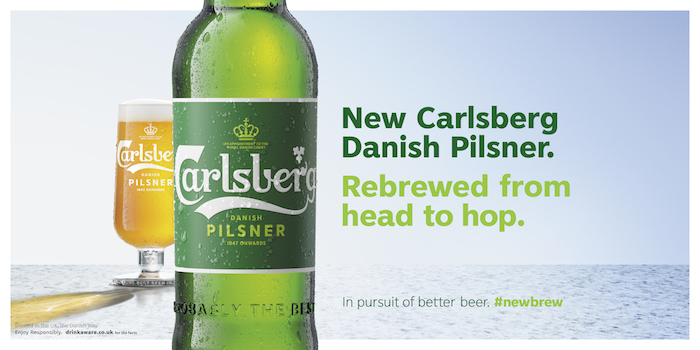 Carlsberg UK has launched its most ambitious and honest consumer facing campaign ever in a bid to drive reappraisal of its flagship beer brand.
The campaign centres around the 'acknowledgement' that today Carlsberg is 'Probably not the best beer in the world'. This honesty has led to the beer being completely rebrewed so that the Carlsberg Danish Pilsner can finally live up to its famous promise.
"At Carlsberg UK, we lost our way. We focused on brewing quantity, not quality; we became one of the cheapest, not the best. In order to live up to our promise of being 'probably the best beer in the world', we had to start again. We've completely rebrewed Carlsberg from head to hop," says Carlsberg UK's VP marketing, Liam Newton.
Expected to reach 97% of the UK, the £20million campaign conceived in collaboration with agency partners Fold7, Clifford French and Initiative – trades on the equity of the brand's renowned slogan to hero the new, 'perfectly-balanced' Carlsberg Danish Pilsner beer. By acknowledging the 'truth' about the quality of Carlsberg in the UK to date, the brewer hopes to challenge a generation of drinkers to re-appraise and re-trial Carlsberg.
"We've returned to a path of pursuing better in every way inspired by the legacy of our founder J.C. Jacobsen and upgraded every touchpoint of our brand," says Lynsey Woods, director of marketing at Carlsberg UK.
By inverting the brand's "probably" slogan and getting straight to the truth as consumers see it, Carlsberg UK hopes to instigate conversation and ensure drinkers are left in no doubt that there has been a change for the better.
"Today, the value of brand honesty to consumers is more powerful than ever. But it is still rare to see brands hold their hands up when they don't live up to their promise. Carlsberg has not only been brave enough to do this, but have done something about it," said Fold7's managing partner, James Joice.
"By re-brewing Carlsberg Pilsner, and using the campaign efforts to focus on re-appraisal, we hope in time, UK drinkers will recall the quality of Carlsberg's beer as fondly as they recall the advertising."
Campaign assets will go live from 15th April across social, out-of-home and digital. TVC activation, live from May, will see brand philosopher Mads Mikkelsen return to screens to deliver the bold message during the busy May bank holiday schedule.