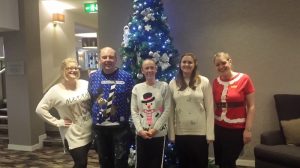 To celebrate National Half Way to Christmas Month three hotels in the Squires Group will be decked out in all things Christmas to raise early awareness of the festive season.
The new awareness month, which has been launched this year, will last throughout the whole month of July and businesses and establishments are encouraged to celebrate all things turkey and tinsel.
The Squire Hotels group has chosen to get involved to demonstrate what its venues can offer businesses wanting to host Christmas conferences, meetings or parties.
Jodi Masterson, director of operations at Squire Hotels, said: "Christmas is a very exciting time but it can also be a very busy time for businesses and a lot don't have the time to plan Christmas activities when they start thinking about it in November.
"National Half Way to Christmas Month encourages business professionals to think about Christmas that little bit earlier and allows for venues and businesses to display what they have to offer so plans can be made in advance."
To mark the official awareness month, venues within the Squire Hotels chain, which include Etrop Grange, Manchester, Best Western Plus Samlesbury Hotel, Preston, and The Hydro, Windermere, will display Christmas trees and decorations in the hotel reception whilst food menus will offer festive delights from 1st – 7th July!
Christmas classics will be the choice of music with other festive treats on offer throughout the week including mince pies offered with coffee's served in the lounge, and each hotel will be throwing a client Christmas Party towards the end of the week.
July will see the inaugural National Half Way to Christmas Month and is an officially recognised UK awareness month that aims to celebrate the fact it is half way through the year to the festive season.