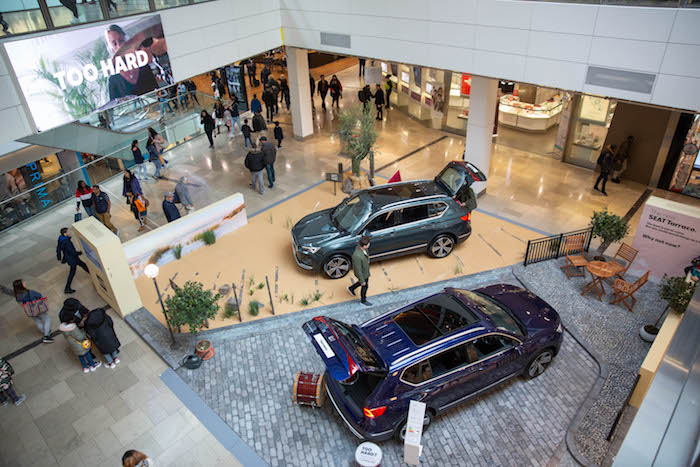 Independent creative experience agency Collider has joined forces with Seat to launch its new SUV vehicle. The experiential campaign provided the public with its first chance to see the Seat Tarraco ahead of the official launch weekend, 22-24 February.
The activation runs through until 3 March at Westfield Stratford City. As well as offering shoppers the chance to discover Terraco, the public will be invited to sign up for a test drive at their local Seat dealer. There will also be the opportunity to win a family holiday to Barcelona.
Collider's creative idea brought to life the Above the Line campaign, and showcases the latest vehicle – which completes the brand's SUV range – in two contrasting environments. Designed to appeal to different driver personalities, and celebrate the adaptability of the new Seat SUV; the experiential execution places Tarracos in a high-energy beachside scene, and an opposing practical city setting – complete with cobbled paving & cosmopolitan cafe.
Peter Brooking Seat's events and internal communications manager said, "The Tarraco lets drivers be an urban warrior by week, and an adrenaline junkie by weekend. Its style and space lets you be one, the other or both. Collider has created a unique environment that demonstrates this versatility, and plays to the kind of driver you are in any given context."
Anton Jerges, CEO, at Collider added: Continuing our relationship with the Volkswagen Group, the Seat team have been great to work with, embracing the vision and creative concept for this launch. The creative treatment is designed to involve the public as they get to see, feel and experience the new Tarraco SUV."