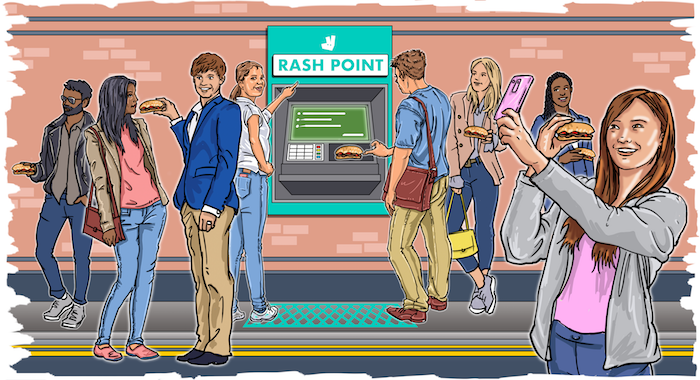 A world's first bacon sandwich ATM is launching, as Deliveroo looks to help Londoners get over what statistically is going to be our most hungover day of the year in 2019.
Data from the British delivery firm has shown we're aching for some bacon after a big Christmas night out, with breakfast orders skyrocketing 72% on the second Friday of December.
The Piggy bank ATM will open for business in Bank, London for three days (11th – 13th December), including the most hungover day of the year.
Partnering with production company Kerve to build the Rash Point, the ATM works exactly the same way as a high-street bank but dishes out nosh, not dosh!  Bacon rolls are provided by Oink Catering.
Joe Groves, Head of PR at Deliveroo says, "Free bacon rolls on the most hungover day of the year is probably the best thing we have ever done to be honest.  Hangovers are brutal, especially at Christmas and hopefully, instead of getting the fear at a cash point after a big spending spree, we can deliver a bit more joy."
Those wanting to get some rash out will need to head to Brushfield Street between 7am and 2pm 11th -13th December to grab a slice of the action. Bacon fans can donate to charity at the Rash Point ATM via contactless card.