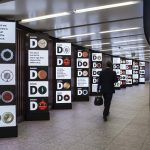 digital totems that line the exclusive passenger route leading from security search directly into the first class Lounge. The cascading screens, adapted from a design originally produced by Admemori for Nice airport, create a visually stunning impact in this intimate location as passengers make their way to the lounge, fully immersing them in Deloitte's brand message.
Deloitte have embarked on their first ever UK Airport advertising campaign as the launch partner of Heathrow's latest and most exclusive digital opportunity, the T5 Immersion.
Located in the brand new British Airways first class security route, the Immersion consists of 15 HD
Taking the immersion opportunity will provide Deloitte with  access to an elite group of global travellers. Over 2,000 passengers will pass through the exclusive security route every day, including British Airways First Class ticket holders, Gold Card members and their guests.
Steve Cox, marketing director at JCDecaux Airport says: "At JCDecaux we're always trying to provide advertising solutions that deliver both innovative and effective opportunities for advertisers, and engaging and memorable experiences for Heathrow's elite passengers. With the striking T5 Immersion we feel we've truly succeeded."
Having a presence in this prime location not only gives Deloitte the opportunity to influence the most senior level business decision makers, but projects values onto the brand that are associated with this premium airport service: trust, reliability and internationality.
Mark FitzPatrick, managing partner for clients & markets at Deloitte UK, explained the rationale for the campaign: "Our campaign has a simple objective: to answer the question, Why Deloitte?  We are doing this by amplifying the characteristics our clients say set us apart.  They see Deloitte as the firm that delivers, makes an impact and takes action.  Put simply, it's what we do that makes the difference.  This campaign will help us to create a distinctive and consistent market position."
To extend their reach to the wider business traveller audience, Deloitte have booked additional business-focused digital networks across Heathrow. A presence on the new Business Lounge iVisions network, which covers 12 lounges across the airport's 4 terminals, and the Heathrow Express digital gives Deloitte the potential to reach 2.2million influential business travellers during their 11 week campaign.
The campaign was booked by Talon and Electric Glue through JCDecaux Airport and will run for 11 weeks.