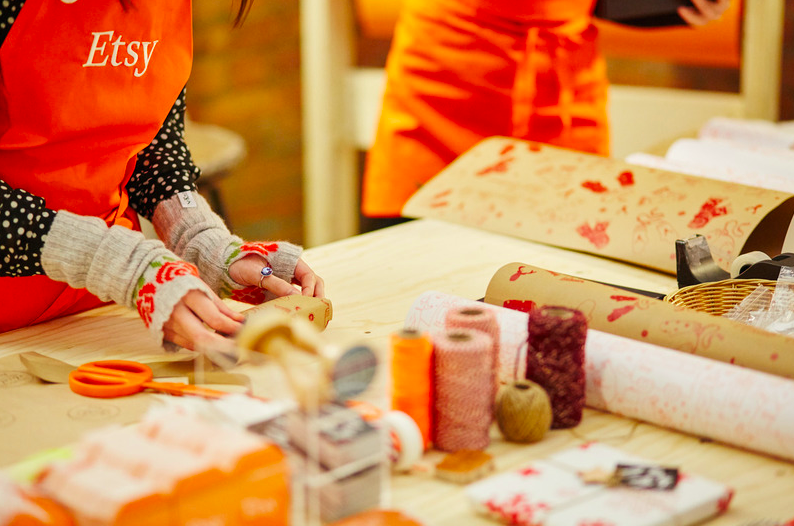 This November, Etsy is unveiling a curated collection of products that put the good into consumer goods.
The collection is being unveiled at The Etsy Good Store (2-4 November) in the heart of London. The concept store will encourage mindful shopping as we head into the festive season, showcasing the independent makers at the heart of Etsy, the unique products that they sell, and the impact of their design and production ethos.
The collection will also be available to buy on Etsy  throughout November and December.
Many of the sellers in the collection have  stories, such as:
Lucie Ellen, who started her jewellery business as a way to make a living while caring for her mother, and has now been able to build her brand full time from her East London garden studio.
Little Beau Sheep, who created her woollen laundry balls as a young mum who was struggling to get her daughters' clothes dry in an environmentally friendly way.
Called Out Living, who became interested in self-development while recovering from post-natal depression, putting together her design skills with her personal experienes to create her fashionable self-care stationery.
"This is retail with a heart. And that might feel more important than ever this year, as more of us are shopping with a conscience, thinking about what we're buying and why." saysJemma Ahmed, Global Insights Director at Etsy. "In the current global context, consumers are increasingly conscious of spending their money mindfully – especially at Christmas. They want to buy and own items that thought has gone into. They want to know where their money is going when they buy that item. And they want to know it will last. By choosing Etsy, not only are they able to co-create with makers directly on the perfect gift, they can be sure that they're helping sellers achieve the small things that make their lives better."
At The Etsy Good Store, alongside the curated collection of products that do 'good', consumers will be able to learn about the craftsmanship and inspiring stories behind Etsy's unique products. Visitors will be invited to take part on panel talks, Q&As and workshops with industry experts discussing this year's biggest trends and topics, from shopping with a conscience through to improving wellbeing through craft.
 Events include:
Celebrating Craftmanship and Conscious Shopping Hosted by interior designer and TV presenter Sophie Robinson
Living Sustainably:  With eco blogger Kate Arnell and sustainability journalist Lucy Siegle
 Promoting Wellbeing:  With the authors of 'Craftfulness: Mend Yourself by Making Things'
 Commenting on the activity and the wider retail landscape, trends expert Katie Baron, Head of Retail at innovation research & advisory company Stylus, says, "Consumers want to buy from ethical retailers, but often we see an attitude-behaviour gap – a moral tussle almost, with consumers valuing one thing, but doing another. This is particularly prevalent around the festive season, when barriers to easy discovery and purchase can become deal-breakers. The Etsy Good Store is closing that gap. The concept gives independents a prime spot to expose their ethos to the masses, supporting a paradigm shift towards a much more democratised high street."