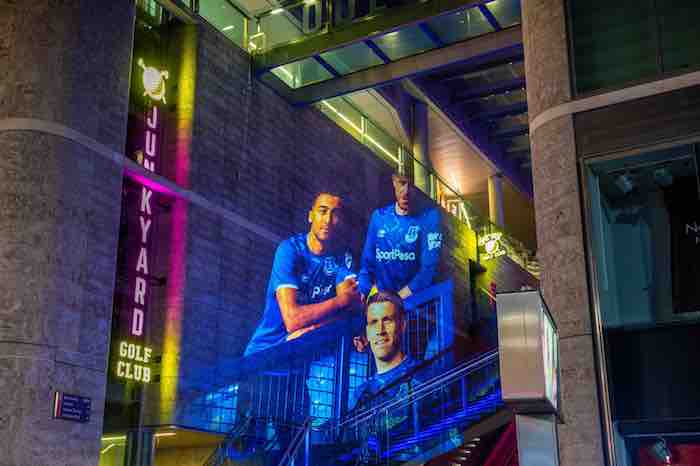 To celebrate the official launch of the new 2019/2020 Everton home kit, images of Everton stars such as Richarlison, Gylfi Sigurdsson, Seamus Coleman and Danielle Turner, were projected within Liverpool One on Friday, July 12.
As part of the collaboration between Everton and Umbro, the sportswear brand behind the new kit, the Blues' stars were illuminated onto the walls of Paradise Street in Liverpool One, as well as other iconic buildings across Liverpool city centre including; the Albert Dock and famous St Luke's Church on Leece Street.
The new royal blue home jersey designed by Umbro is influenced by the Goodison Park's stadium architect, Archibald Leitch, and features the iconic criss-cross steelwork design on the chest.
Commercialisation Director, Cathy Meadows, at Liverpool One commented on the brand activation: "Liverpool ONE is such an iconic part of the city and our building design and architecture lends itself perfectly for such activations and enlivenment initiatives. This was a striking promotion for Everton and the launch of their new home kit and certainly captured people's attention on a busy Friday evening but also proved popular via our social media channels."
The release of the new kit has already proved a huge hit with supporters, with record-breaking sales in the first week of pre-order following the unveiling on   July 4. Sales have outperformed pre-order numbers from all previous seasons and were up by 26.2% when compared to 2014/2015 specifically.