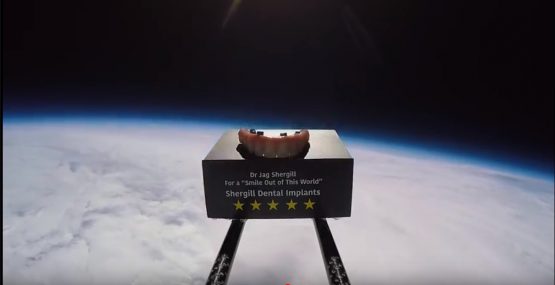 Tony Gedge, Founder and Owner of Dentists of Influence boutique dentist PR agency, has launched an "Out of this world" Marketing and PR campaign for Coventry-based Doctor Jag Shergill, owner of Shergill Dental Implants.
Tony Gedge, a former owner of nightclubs, is recognised today an established marketing and PR specialist with a portfolio of dental-industry clients including The Pain Free Dentistry Group Scotland. Gedge took John Lennon and Elvis Presley's teeth on tour to raise global awareness for Mouth Cancer receiving global media coverage.
Tony also has a long history of supporting dental charities. He is co-founder and trustee of global charity Dental Mavericks, which brings pain-free dental care to vulnerable communities in remote regions across Morocco and Lebanon. So far, it has taken nearly 100,000 beneficiaries out of daily dental pain
Tony's "Smile out of this world" campaign focusses on Claire Nathan, one of Doctor Shergill's All-on-4 fixed permanent implant patients. Doctor Shergill sent Claire's bridge on an epic journey to the edge of space. Her new smile travelled 40km from the earth's surface, while also experiencing temperatures of -60C and zero atmospheric pressure. And, like no implant bridge before it, UK Air Traffic Control even had to clear it for take-off!
Claire had suffered life-long dental anguish. So Doctor Shergill planned a special surprise for her. He arranged for Sent Into Space to take her new smile literally closer to the stars. A team of specialist space engineers attached the implant bridge that now holds Claire's new fixed permanent teeth in place to a transportation module. This was done using a custom-made mounting system.
Once fitted with advanced satellite and live telemetry tracking systems, the entire module was propelled through the earth's atmosphere. Then, at its highest point, Claire's smile was captured on high-definition film against the backdrop of space. Now Claire can rightfully claim to be the owner of a 'stellar' smile that has been touched by pure sunlight.
Doctor Jag Shergill explains, "A simple smile is something we all take for granted. It's uplifting and life-affirming. Like nothing else, a smile from the heart connects us with our friends and family. I wanted to show Claire that her smile could literally radiate sunlight. What better way to do that then send her smile into space and give Claire the confidence to shine like a star. Now Claire has a wonderful new smile and an amazing story to tell. I couldn't be more pleased for her."
Claire, 47 from Devon had given up hope of a confident smile until she met with Doctor Shergill. She never laughed in photos—always choosing to cover her mouth. As a hairdresser surrounded by mirrors, she learned coping mechanisms to avoid seeing her awkward smile. For all these reasons, although Claire was a bubbly, life-loving person, her happiness didn't always shine through as she hated her denture.
Doctor Shergill was able to offer Claire an affordable alternative to single tooth implants. He recommended a procedure called All-on-4 developed by Portugal's Paulo Malo, which uses a single fixed implant bridge placed on four dental implants. With this technique, patients don't need bone grafts. This translates into a reduced number of visits to the dentist, minimal discomfort, fewer procedures and new fixed permanent teeth in less than a day.
Claire Nathan, comments, "I've always been a happy person, but I actually look it now. My smile was always behind my hand, and I was never beaming. Today people look at me and say, ooh you're so happy. But I've always been happy—just on the inside. Now I'm happy on the outside too, and everyone can finally see it! It's more than I ever dreamed could be possible. And it's incredible to think that the whole process was completed in just one day and that surgery was totally pain-free."
She concludes: "Don't let anyone tell you that you can't have the smile of your dreams. Don't take no for an answer. It's too important! I saw my smile reflecting the sun's rays on the edge of space. That was something special. But the most precious moments for me are the small, everyday things—like when I bit into an apple for the first time. All those fears and worries I'd had for more than 20 years just vanished. I have to confess I cried tears of joy that day and thanked my lucky stars!"