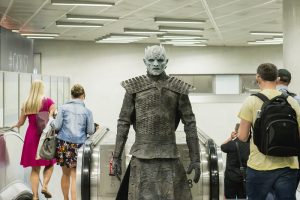 Exterion Media, Europe's largest privately owned Out-of-Home company, has launched Exterion Live, its brand new experiential offering.  Exterion Live will be able to provide end-to-end management of experiential campaigns across five core environments: transport, retail, urban, sports and entertainment, through existing advertising partnerships with Transport for London (TfL), National Rail, Westfield, London Designer Outlet (LDO) and Wembley Park.
Exterion Live will initially have access to 20 sites on London Underground, including major stations King's Cross, Canary Wharf, Tottenham Court Road, Waterloo, Shepherd's Bush and Farringdon.
The portfolio will include all Exterion's National Rail partners, to cities across the UK. Stations such as Castle Cary during Glastonbury and Aintree during the Grand National, will give brands a unique opportunity to implement tactical activity specifically around the event. Exterion Live will offer integrated, data-driven brand experience opportunities to advertisers looking to provide holistic outdoor campaigns.
The launch of Exterion Live signifies the company's ongoing investment in new technologies and the use of data-driven insight that enhance the consumer experience for the urban audience and create new commercial opportunities for clients.
Consumers are increasingly looking for memorable experiences, with research from Exterion Media's award-winning national consumer panel work.shop.play. revealing that 98 per cent of consumers are more inclined to purchase post a brand experience. The latest IPA figures also show that on average 12.3 per cent of briefs are being allocated to experiential marketing, outperforming all other major marketing channels. This launch by Exterion clearly responds to consumer demand, and is in line with industry growth.
In a UK industry first, Exterion has introduced an end-to-end booking portal for experiential agencies, to be the hub of the Exterion Live offering. Streamlining the booking process for experiential agencies, as well as giving clients live availability of experiential spaces, the portal is designed to be completely transparent, and offer real-time updates throughout the booking process.
Dave King, Managing Director at Exterion Media, said "We've seen a huge demand for experiential from our clients in the past six months, particularly after the launch of Hello London, our world-class partnership with TfL. Exterion Live will enable our clients to amplify their Out-of-Home campaigns and deliver shareable and memorable experiences beyond the poster to consumers. Exterion Live is a true end-to-end service for our clients, offering everything from access to creative, production and on the day logistics. We truly believe it is a game changer for the experiential market."
Gary Bell, Head of Commercial at Wembley Park, said: "We've already delivered successful experiential campaigns with Exterion Media by combining their OOH assets to offer a 360 outdoor solution.  The launch of Exterion Live is very exciting for us, at both Wembley Park and London Designer Outlet, as it enables us to drive our event-led strategy to the wider market.  We look forward to working closely with Exterion Live to ensure we enhance the overall experience for the millions of customer that visit Wembley Park each year."
Chris Reader, Head of Commercial Media at Transport for London, said: "TfL has a track record in delivering innovative partnerships with brands such as Sky Atlantic for Game of Thrones, Lucozade, Buxton Water and Channel 4.  Whilst we operate with a number of experiential partners, the launch of Exterion Live provides Exterion with a unique opportunity to combine our vast out of home advertising estate with experiential activity to create truly integrated, bespoke campaigns for brands. It's campaigns like this that truly enhance the passenger experience, create those 'wow' moments for brands and vitally generate revenue to reinvest in the transport network for the benefit of our customers."