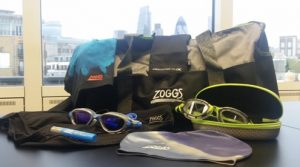 Michael Ventre, one of the guest speakers at the FMBE Symposium last month, has announced his latest partner for the New York to London Swim that he is embarking on next year.
Zoggs, a global brand leader in recreational and competitive swimwear, has teamed up with Ventre to provide him with the latest swimming kit and accessorise to ensure he is well prepared for the big swim.
Ventre comments: "My first stash of kit has just arrived in the post, I will try to remember to take off my Predator Flex Titanium Reactor goggles before bed.  They have photo-chromatic lenses to adjust to varying light conditions I very much look forward to working with Zoggs over the next 18 months and will provide regular training updates throughout the year"
Michael Ventre is Swimming 3800 miles from New York to London in April 2017 to raise money for Oxfam. Other partners include Torq, Extreme Adventure Food, Shark Shield, GSK, Thames Baths and Dry robe.
You can find out more about Michael's swim here