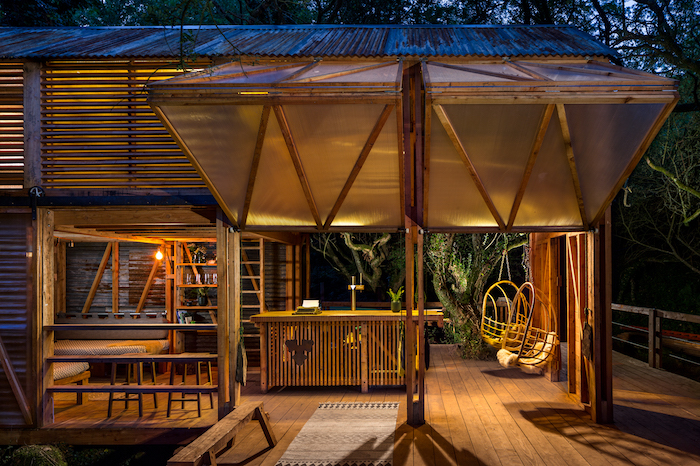 Carlsberg is opening the world's first completely off-grid pub powered only by a waterfall. Six young people with no prior construction experience came together to build the pub, which is now bookable on Airbnb.
Build the Danish way is a unique social experiment meets innovative design challenge created by advertising agency Fold7 in collaboration with its experiential arm, Hyperactive. Designed to give Carlsberg's UK audience the ideal introduction to living the Danish way, the project invited its participants to question their work-life balance and reassess their relationship with technology. By whisking them away from everyday life and taking away their smartphones and devices, Carlsberg challenged them to build not just a pub but also a friendship – all without being able to hide behind social media or instant messenger.
In the forest, the six handpicked participants had to embrace Danish values of simplicity, directness, and open communication in order to bond with their new campmates and create a team capable of pulling off the ground-breaking build over just five days.
Sleeping on site, in tree pods and suspended tents, the group spent their evenings around the campfire with simple conversation – and only the music they could make themselves – for entertainment. Fold7 captured the team's progress in a content series "Build the Danish way" which will be launched across Carlsberg's UK social channels including YouTube, Facebook, and Instagram, released in August.
Visitors who book to stay at the finished pub – dubbed the Carlsberg Cabin – can expect to enjoy an experience reconnecting them with simple pleasures: good company and the great outdoors. Designed to sleep six people, the cabin will be available as a regular listing on Airbnb.
Nestled in a hidden slate quarry in Cornwall, the Carlsberg Cabin sits at the head of a waterfall that powers its lights and the Carlsberg Expørt DraughtMaster beer pump via a turbine. Guests will be immersed in the beautiful Cornish surroundings with a spacious, social outdoor area with trees winding through its deck. A supply of crisp, chilled Carlsberg Expørt beer to enjoy during their stay will complete the homage to Danish life.
The building itself is a modular design comprising sustainable larch wood which blends traditional Danish design cues with those of the classic British pub. The units were designed by architect Ben Huggins of New British Design. Hyperactive orchestrated the collaboration with New British Design and sourced the build location with site partner Kudhva, where the cabin is based.
From the build team's first arrival on the site, to the final "skål!" with freshly poured pints in hand, the entire project is a celebration of the Danish values which sit at the heart of Carlsberg, brought to life with the best in British design and creative craft.
Ryan Newey, CCO and founder, Fold7, said: "Having delivered the principle of the Danish way to the UK, we now wanted to create an opportunity for people to experience the Danish philosophy first-hand. Build the Danish way explores all of the dimensions of building: building character, building friendships, building fortitude and building something real, the first waterfall powered pub in the world. Captured all on camera for an episodic content story, the films capture genuine friendships forged between real people who escape their everyday to experience a little drop of Danishness."
Liam Newton, vice president marketing, Carlsberg said: "We wanted to build an off the grid pub that allowed people in the UK to live the Danish Way and escape the busyness of daily life. We're extremely proud to be able to launch the world's first pub powered by a waterfall. The Carlsberg Cabin was part of a project, Build the Danish Way, to bring an element of the Danish way of life to the UK. We want to provide space for quality conversation whilst taking in a view to take your breath away and a crisp, cold pint of Carlsberg Expørt with friends. We hope people enjoy staying at the Carlsberg Cabin and embrace living the Danish Way."
Andrew Casher, founder of Hyperactive said: "It's every man's dream to build a pub, but this project allowed us to indulge our fantasies at an inspirational location at Kudhva and the most innovative and progressive architects in New British Design. We're very proud of the result. The pub is a long-term brand experience that remains true to Carlsberg's heritage and principles of hygge, that Carlsberg fans will be able to enjoy for months to come."
Louise Middleton, director and founder of Kudhva, said: "It was vital to us that this new design and build encouraged guests to step away from the everyday, to be outdoors, to breathe fresh air and to challenge their previous experiences of holidays. An off-grid bar and cabin nestled at the top of a waterfall couldn't be more in line with our ethos."
All photography is credited to George Fielding.