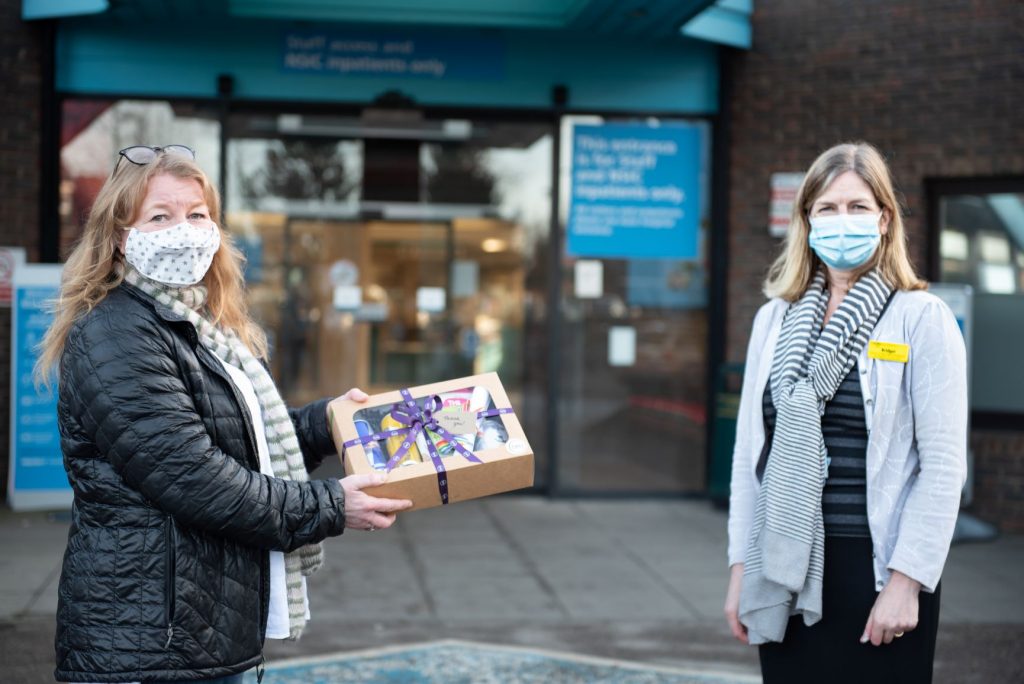 Event specialist, Global Infusion Group and hotel booking and management company, 10 or more teamed up to gift over 25 hospitality packages to NHS staff throughout in Buckinghamshire where both companies are based. These were presented to Buckinghamshire Healthcare NHS Trust's chief people officer Bridget O'Kelly, ahead of the Trust's Festive Kindness campaign.
Global Infusion Group, event catering and brand logistics experts and hotel booking and management specialist 10 or More have both been massively impacted by Covid-19, given the nature of their respective businesses. Double Queen's award winner Global Infusion Group quickly sprang into action when the crisis hit and delivered over 1,000 meals a day to 15 NHS sites across Buckinghamshire during the first wave of the pandemic.  Equally keen to do something positive during the Covid-19 outbreak, 10 or More's director Debbie Robinson launched a global campaign encouraging hotels to donate weekend breaks, spa days and meals to those on the NHS frontline.
Buckinghamshire Healthcare NHS Trust workers will receive the hospitality packages as part of a staff engagement initiative centred around a Festive Kindness campaign that has been developed to reward the hardworking team and offer some hope at the end of an incredibly challenging year. Staff members will be selected at random from the Trust's HR system and then contacted to let them know that they've been chosen.
The participating hotels cover a diverse range of styles, from 5* luxury hotels to country manor hotels, and everything in between. The campaign so far has shown the huge generosity of the UK hospitality industry, with hotels donating complimentary dinners, lunches, and spa treatments in addition to the free accommodation in hotel rooms and suites. Full details of the packages are attached.
Buckinghamshire Healthcare NHS Trust's chief people officer Bridget O'Kelly explains just what the gifts will mean to staff members: "Our teams have worked incredibly hard over the last eight months dealing with the challenges that Covid-19 brings. They now face another six months of uncertainty looking after patients who are seriously ill. Having something for them to look forward to and the opportunity to take a well-earned rest is wonderful. We're incredibly grateful to 10 or More, Global Infusion Group and all the fabulous hotels who have gifted stays."
Debbie Robinson comments: "Having worked closely with the team at Global Infusion Group for many years, when I heard about the amazing work that they were doing with our local NHS trust it seemed like the perfect opportunity for us to work together and offer a small but meaningful token of appreciation to the amazing NHS staff who we owe so much to. The hope is that the gift of time away from it all, in lovely surroundings, will allow these incredible people to relax and enjoy some peace given the incredibly difficult year that they've endured. We hope that this gives them something wonderful to look forward to.
"The support we've received from the hospitality industry has been incredible and some of the breaks that we have to give away are fantastic. Cliveden and The Langley are both luxury 5* properties on our doorstep and are amongst the hotel stays that we have available. Alongside them are a range of overnight and weekend stays at Nobu Shoreditch and a two-night stay for two at Chewton Glen with access to its famous Spa."
Bonnie May, global operations directors at Global Infusion Group added: "Debbie's campaign to donate hotel breaks to NHS staff on the frontline is an amazing initiative and the support that she's received from the hospitality industry is testament to the amazing industry that we work in. When Debbie approached us about working together to allocate some of those stays to the people within our local NHS trust who we delivered food to during the first wave of the pandemic, we jumped at the opportunity to facilitate."