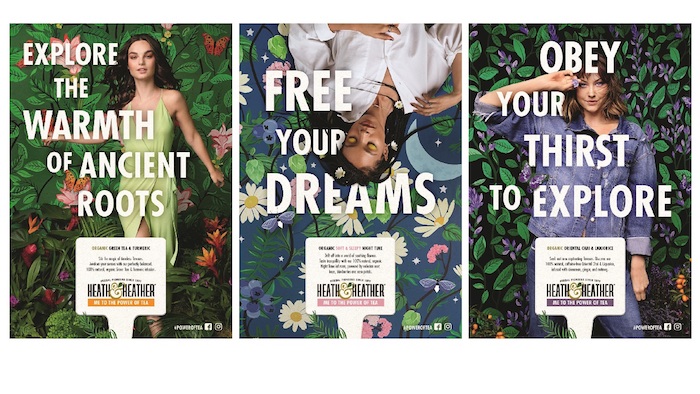 Heath & Heather has announced the second phase of its bold new multi-channel campaign, Me to the Power of Tea. The biggest marketing campaign to date launches in conjunction with the brand's latest expansion into Tesco supermarkets nationwide. This listing follows Heath & Heather's recent distribution gains in Morrisons and Ocado as well as strong growth across the Health Sector with both its innovative green teas and fruit & herbal infusions up +14% and +10% respectively.
Launching nationwide, the campaign activation will live through outdoor advertising, experiential activity, social media, as well as targeted media partnerships online and in print.
Behavioural communications agency HeyHuman has conceived and delivered the campaign, positioning Heath & Heather as a lifestyle brand. Taking inspiration from its vibrant packaging and ingredients, HeyHuman worked closely with photographer Vicky Lawton to create a campaign that brings to life the personality of the brand's tea infusions and flavours, bringing a new energy to the category.
In the wider market, the total tea category is currently relatively flat at +0.6%; fruit & herbal infusions drive a small growth at +3%, whilst the total green tea segment is seeing a decline of -7%. In contrast to this, the Heath & Heather brand, with its innovative range and 'premium niche' organic positioning, continues to drive significant growth across the category.
Lucy McLean, Brand & Digital Manager at Heath & Heather, comments: "We pride ourselves on a 'close to nature' product range, focusing on natural ingredients and innovative flavour combinations that inspire new audiences to discover more in the world of tea. With fast-paced changes in consumer trends and behaviours, we understand the need to remain relevant amongst younger audiences whilst driving value and 'premiumisation' in the tea category. Alongside the new creative executions for Me to the Power of Tea, we will be looking to further expand Heath & Heather's distribution channels with exciting NPD in the pipeline as well as ambitious goals for the Foodservice sector, both in the UK and internationally."
The brand has capitalised on first-to-market product launches including Organic Green Tea & Turmeric, as well as award winning teas such as Oriental Chai & Liquorice (Great Taste Winner 2017).  The launch into Tesco will now see 7 Heath & Heather products available in up to 517 stores nationwide; Organic Green Tea with Turmeric, Organic Green Tea with Coconut, Organic Morning Time, Organic Night Time, Organic Slim Mate, Organic After Dinner Seed Supreme and Organic Turmeric Root Brew.
Carole Davids, creative director at HeyHuman, adds: "Building upon the success of last year's launch, we have worked with Heath & Heather to create a campaign that reflects the vibrancy of the brand's new teas and infusions. It's no secret that the latest generation of tea drinkers seeks new flavours at every turn, and our goal is to aid the brand on its mission to broaden its appeal amongst younger consumers."