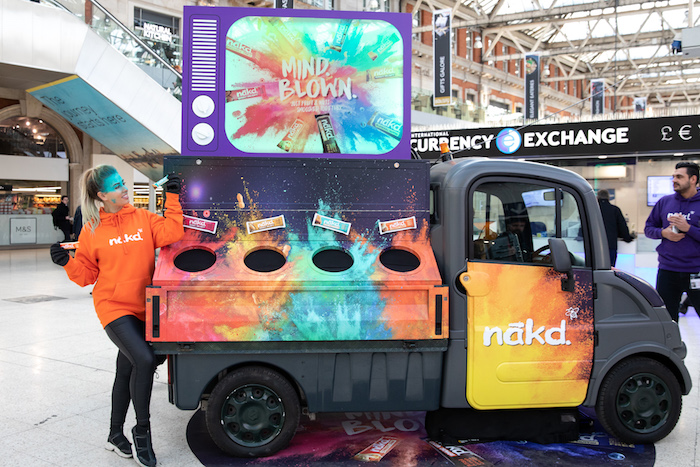 London and Manchester commuters were greeted with a 'Mind-Blowing' sight on their journeys to work this morning as commuters with wildly tousled hair and brightly coloured faces appeared across the city during the morning commute in a campaign for healthy snack brand Nākd.
The unusually colourful commuters were spotted across the city waiting for buses, riding the tube, buying coffee and walking across the river, brightening up another dreary morning for Londoners struggling with the January blues.
The Experiential campaign was delivered by Highjam, an award-winning London-based agency specialising in Product Sampling, Shopper Experiences and Experiential Marketing, and marks the launch of Nākd's first ever TV advertising campaign 'Mind Blown'.  In the new TV ad on screens across the UK this January, a doctor assesses a patient whom is in a blissful state of mind blown euphoria having recently tasted the small bars with big flavours.
Commuters will be given the chance to sample Nākd's snack bars as Highjam's team hand out full size bars to over 80,000 commuters, as they make their way to and from the office. Activity will take place throughout January in train stations, shopping centres and commuter locations in central London and Manchester.
Laura Walton from Highjam commented: "We are delighted to kick off January with this fun, colourful campaign. Setting the tone for what will be a big year for Highjam, with lots of exciting activity planned.  Watch this space!"