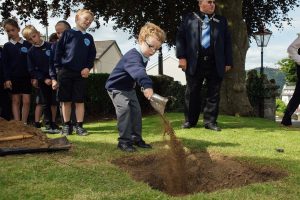 A north-west based hotel recently enlisted the help from local school children to bury a time capsule in its grounds.
The Hydro hotel in Windermere, Lake District, which is managed by Squire Hotels, worked with more than 20 pupils from a local primary school to help bury the time capsule and create the items to be buried which included letters to the future, curriculum work and family photographs.
The event took place to commemorate the re-opening of The Hydro following a £1.5m first-phase renovation, 136 years after its doors first opened in 1881 and the capsule will not be opened for a century.
The Hydro's general manager, Stefan Rae, was present at the burial and comments: "It was an absolute pleasure to welcome pupils from the primary school and create our own piece of history."
"The Hydro Hotel has been an important part of the Windermere landscape for over one hundred years and is an iconic building for not only locals but visitors as well and we felt it was hugely important to commemorate the re-opening and by burying a time capsule we have not only done something for the people now but also for the people of the future."
 The Hydro, on Helm Road, re-opened its doors in April following a major £1.5m first phase renovation and the school pupils, local dignitaries and Setfan Rae all had the chance to place dirt on the time capsule in order to rebury it.
This event sees the latest in The Hydro's reopening calendar following the mass renovation as last month saw a cocktail party held for guests which included performances from Jack Pack of Britain's Got Talent fame, who came fourth in the 2014 competition and acrobatic act performers, Katy and Paul, who took part in the 2016 talent competition.