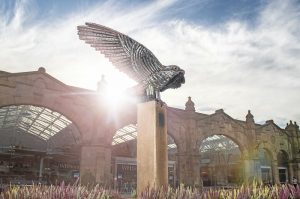 Ahead its new store opening on 28th September 2017, home furnishings retailer Ikea brought the "Wonderful Everyday Tour" to Sheffield, giving residents and visitors the chance to experience the little things in life that make the everyday more wonderful.
Eleven uplifting mini-events and installations popped up in and around Sheffield, bringing the Ikea philosophy to life and giving everyone a preview of what's to come when the new store arrives.
The "Wonderful Everyday Tour", which was in situ for seventeen days prior to the store opening, has been designed to surprise and delight everyone in Sheffield.
It included eye-catching artwork by local artists and the opportunity to try Swedish treats along with family events and community makeovers.
The "Wonderful Everyday Tour" schedule includes:
Pots of Wonderful – Sheffield's version of the Hollywood sign to greet new visitors to the city. Made entirely from potted plants and flourishing flowers.
Cushion Drop – Ikea brought an extra splash of colour and added comfort to public benches across Sheffield. Residents of Sheffield could get comfy with an array of colourful cushions dotted around Peace Gardens and Winter Gardens.
Fika Time – Ikea brought the Swedish version of coffee breaks and an instant pick-me-up to Sheffield city centre. The special Fika cart providing complimentary hot drinks and cinnamon buns.
Family BBQ– Ikea hosted a free family barbeque where sizzling meatballs and burgers were on offer. Family and friends were invited to tuck into tasty treats, sit on comfy chairs and celebrate Sunday
Park Deck Chairs – Ikea placed colourful deck chairs in the city's botanical gardens providing a comfortable place to admire the surroundings.
Allen the Peregrine – Local artist Jason Heppenstall, known for his animal sculptures made out of reclaimed materials, brought Sheffield's iconic peregrine falcon to life with one of Ikea's own iconic tools. Allen the Peregrine, made entirely from thousands of Ikea allen keys, welcomes visitors and residents from his perch in Sheaf Square.
Exhibition Alley – Ikea enlisted the help of talented local artists to transform Arundel Gate's underpass into a pop-up exhibition. Over thirty vibrant pieces of art were on display and visitors had the chance to get their hands on their own masterpiece by bidding in the silent auction, with all proceeds going to local charities Artfelt, The Children's Hospital Charity and Bluebell Wood Children's Hospice. Featured artists included: illustrator Lisa Ohaha, talented painter Andrew Hunt and quirky print-maker Kid Acne.
Reading Lounge – The Sheffield Train Station's waiting room was transformed into a relaxing reading room full of literary gems from local writers. Passengers could sit back and relax in comfort before their journey and pick up a book to enjoy while they wait and take with them on their onward journey.
Green Takeover – Wincobank Village Hall underwent a transformation thanks to Ikea's green-fingered team. Ikea co-workers could choose and donate their favourite plants, pots and furniture from the store to turn the Hall's outdoor area into a tranquil space for visitors to relax in.
Hot Dog Cart – Ikea's hot dog cart made its way in and around the city centre offering complimentary hot dogs to hungry shoppers
Supertram Makeover – Ikea brightened up commutes with a special tram makeover.
Garry Deakin, Ikea Sheffield Store Manager, said: "We cannot wait to open our doors to Sheffield and the Wonderful Everyday Tour is our way of sharing the excitement and bringing the IKEA philosophy to life in the city. We believe that it's the little things in life that make us happy and we hope everyone will get to enjoy the events and activities we have planned. By working with the community and some extra-special local talent, we have created a series of unexpected surprises to make people smile and give them a taste of what's to come once the store opens."