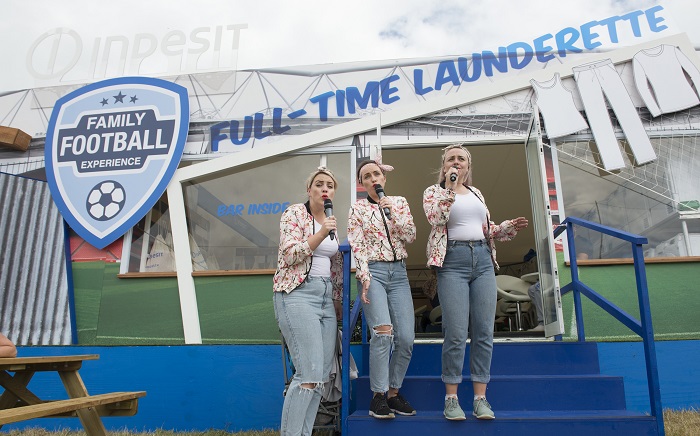 Indesit, washed over 200 festival goers' laundry loads whilst at this summer's Camp Bestival.
Indesit attended Camp Bestival for the 3rd consecutive year, and once again gave visitors the chance to get their dirty laundry washed and dried for free, as well as hosting a variety of football-themed activities to keep families entertained.
Indesit joined forces with its official partners, Arsenal FC and sportswear brand Puma, to bring the Family Football Experience to Camp Bestival. The Junior Gunner's clubhouse offered face-painting, arts & crafts and two big screens for FIFA tournaments.  Indesit also brought the Washing Machine Challenge to the festival at Lulworth Castle, Dorset, where footie fans could test their shooting accuracy by attempting to kick footballs into the giant washing machines. Arsenal stars Jack Wilshere, Lauren Koscielny and Alex Iwobi, who had previously taken the same challenge, were knocked off the Indesit Washing Machine Challenge leader board by some future football stars. There were also 5-a-side matches, skills tests and coaching sessions that saw 600 children enjoying a kick-about in the sunshine.
The  Indesit Full Time Launderette featured a bank of Innex washing machines and energy-efficient heat pump tumble dryers, with a team of singing launderetters on hand to complete festival-goer's laundry for free throughout the weekend.
Sam Johnson, brand manager, Indesit UK & Ireland commented: "We were thrilled at how popular the Indesit Full Time Launderette was again at this year's Camp Bestival. Our Innex washing machines were running at full capacity for the entire festival, with so many families very pleased to have the hassle of festival laundry taken care of for them, helping to save them time, money and effort so they could concentrate on enjoying the festival.
"The Indesit Family Football Experience, in association with Puma and our official partner Arsenal FC, was also a great success. We saw families queuing from the early hours to make sure they got the chance to participate in all the activities, and we were very impressed at the level of talent and precision the next generation has to offer."