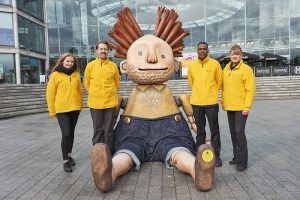 Aviva has commissioned MKTG to create and produce a series of immersive and interactive installations to encourage submissions for this year's Aviva Community Fund.
To showcase the huge impact seemingly ordinary objects can make to local communities, a selection of the objects funded for community groups by the Aviva Community Fund last year will be transformed into large scale statues which will be displayed in three key locations across the UK. These installations demonstrate that with the right perspective, even small objects can make a dramatic difference to local communities.
The objects, which include a large football, a puppet and a trowel, will appear alongside a giant screen showing content related to the organisations, an information panel and digital plinth for viewers to visit the Aviva Community Fund website and gather more information about the competition.
The installations will feature the following organisations, on the dates below:
Norwich: Voice of the child – represented by the puppet from 16th September
Leeds: Farsley Girls Football Club – represented by the football from 23rd September
Birmingham Bullring: Urban Buzz – represented by the Trowel from 30th September
Zenith and bigdog agency have worked collaboratively on the Aviva Community Fund since its inception. MKTG is responsible, while MKTG is responsible for project management, location management and production of the activity for all three locations, including creation of the three large-scale 'ordinary objects'.
Piers Lawson, client manager at MKTG, commented: "We are delighted to be working with Aviva to promote its fantastic Community Fund competition.  We wanted to create installations that formed a striking and unmissable image on the landscape that would attract and engage passersby and, importantly, showcase the incredible work of the local recipients of the Aviva Community Fund."
Sally Richens, planning director at Zenith added: "The Aviva Community Fund is all about helping local organisations that are supporting their community.  It was important that our campaign had an element of public engagement in regional hubs to capture people's interest, and what better way to do this, and demonstrate the power of the fund, than by telling the stories of the organisations that have already benefitted from the competition."