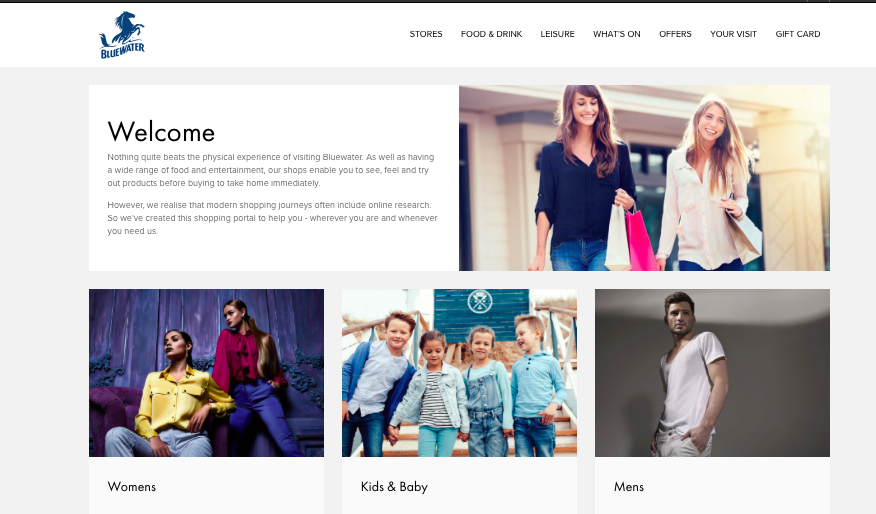 Landsec has announced a new retail portfolio innovation with the launch of an online shopping portal trial for Bluewater, Europe's leading retail and leisure destination.
Featuring over one million items from Bluewater's retailers, the new portal provides guests with the opportunity to conduct research on particular products or product categories, seek alternatives and, ultimately, to purchase for delivery or collection at Bluewater.  In addition, the portal identifies the location of the store so they can physically experience the brand as part of their purchase.
The innovation is part of Landsec's strategy of using technology to enhance the guest experience across its portfolio of retail and leisure destinations.  By trialling the portal at Bluewater, Landsec are creating additional means by which guests can interact with destinations when not physically there, reflecting their position as lifestyle brands.
Commenting on the launch, Ailish Christian-West, head of shopping centres at Landsec, said: "Our priority at Landsec is providing guests with a unique experience, one that complements their needs and aspirations.  Whilst nothing quite beats the physical experience of visiting one of our retail and leisure destinations, the new shopping portal reflects how people are increasingly living their lives.  Our guests can now move seamlessly between the physical and virtual worlds to make purchases and enjoy experiences."
The launch of the shopping portal is the latest in a series of experience-focused innovations from Landsec.  Earlier this year, the company launched guest experience measurement tools and analysis across its portfolio of retail and leisure destinations in partnership with Service Management Group (SMG).  The launch followed a successful pilot over three years at Bluewater.
SMG's technology, which utilises voluntary online surveys, real time analysis of results and instant messaging of key findings, is being used by Landsec to understand guests' responses to events, new guest experience initiatives, and the wider retailer experience at each asset.