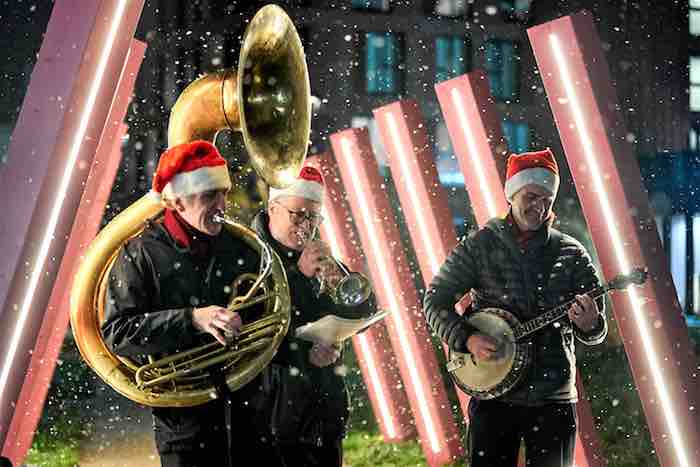 A range of festive activities have begun at Elephant Park in south London where a four-week pop-up titled 'Merry Elephant' is transforming the recently opened Sayer Street and Deacon Street into a mini Winter Wonderland, at the £2.3 billion regeneration project led by Lendlease and Southwark Council.
Christmas tree decoration and delivery services will be available from 'The Good Elf' and Christmas shopping is available from 'The Gift Shop by SoLo Craft Fair', which promotes independent retailers.
A festive selfie booth will allow revellers to personalise Christmas cards, and entertainment being laid on includes mock snow showers on Friday and over the weekends. Many of the operators on Sayer Street are also getting into the Christmas spirit and have planned special events and promotions over the festive season.
The festive celebrations are complemented by a specialist 'Colourwave' Christmas light installation on Sayer Street, which uses an array of colour changing LED lights that evolve from blue and purple tones earlier in the season, to orange and peach hues in late January carol singers, and a Christmas forest
Guy Thomas, Head of Retail at Lendlease, said: "Christmas is a time for celebrating with friends and family, and at Elephant Park we wanted to create an exciting offer for the local community that would champion our new independent shopping street and long-term commitment to Elephant and Castle. We have created a vibrant and diverse festive experience that will highlight and complement our newly opened businesses and also bring new visitors to Sayer Street."
News of Elephant Park's Christmas activations follows the announcement of the openings of two local brands: vegan Ethiopian restaurant Beza; and Japanese tonkotsu specialists Koi Ramen.