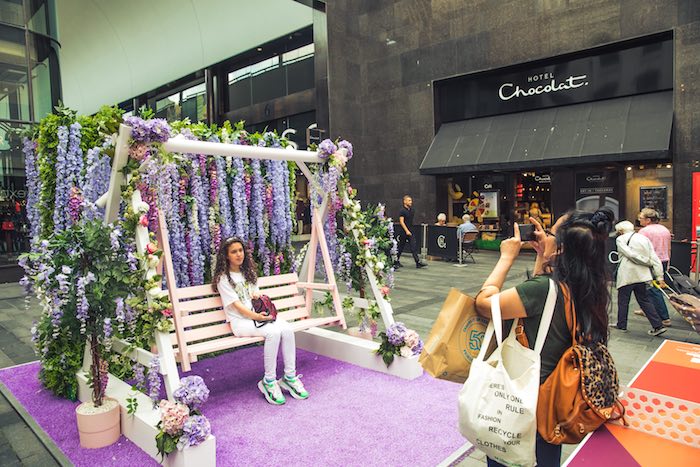 Liverpool One's latest enlivenment initiative, a picturesque Bloom seating installation, has been unveiled on Peter's Lane for visitors to capture and enjoy.
Collaboratively designed by Spark Creatives and ICF Next, Bloom features a swinging pink bench set amongst a floral backdrop, encouraging passers-by at Liverpool One to pose for a selfie, and share with the hashtag #BloomInLovely.
Bloom marks the first of many placemaking instagrammable moments that Liverpool One has planned throughout the coming months, while further floral installations are set to blossom in College Lane and Manesty's Lane next year.
Cathy Meadows, commercialisation director at Liverpool ONE, commented:"In response to the rise of social sharing, we constantly strive to offer our visitors eyecatching interactive activities alongside our excellent retail offer. Bloom joins an exciting array of enlivenment ventures taking place at Liverpool One this summer, and we are looking forward to unveiling more Instagram-worthy installations in the near future."
In place until the end of summer, the activation coincides with the giant slide currently installed at South John Street, and follows the successful ten-week 'Dinosaurs Unleashed' augmented reality campaign, which boosted visitation and sales performance compared to UK averages over the period.