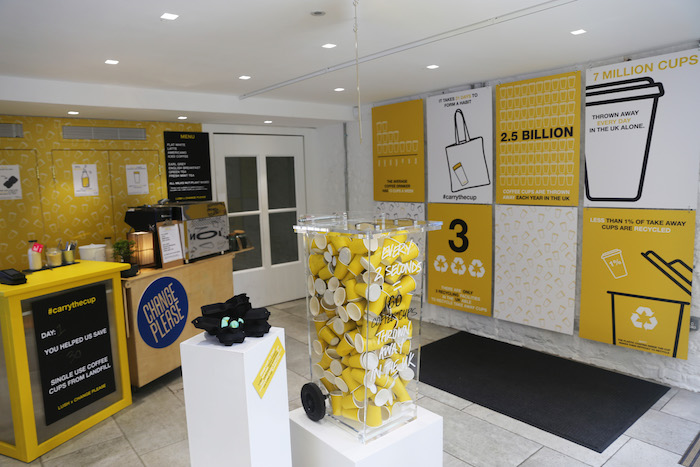 Open for four weeks from Tuesday 14th August, the #carrythecup pop-up is a vegan coffee shop with an agenda. Located in the Lush Soho Studio on Beak Street, Lush in collaboration with Change Please will be offering free coffee, iced coffee or tea to anyone that comes in with a re-usable cup. With the launch of the pop-up, Lush hope to drive awareness around the amount of single use plastics used when making a coffee, and encourage people to carry reusable coffee cups. This pop-up will be open Monday through to Friday (closed at weekends) from 7.30am – 3.30pm until Friday 7th September.
An inspirational space, the #carrythecup coffee shop walls will host an array of educational facts and positive actions people can take away and incorporate into their lives to make huge impact and reduce waste. Visitors to the shop will also be able to purchase one of 500 limited edition Lush reusable coffee cups (£12.00 each), which are made from six used cups.
Lush Soho Studio Manager, Michael O'Brien, comments: "Reducing our reliance on plastic has been at the forefront of Lush's innovations for the last 23 years. Beyond cosmetics, there are habits we can break and simple changes we can make to reduce or remove single-use plastic from our lives. By transforming our front exhibition space in to a friendly coffee shop, we want to invite London locals and visitors inside for a free cup of coffee (or tea) and an informative discussion on how to ditch the single-use coffee cup, and learn to #carrythecup. The only catch to the free coffee? You have to bring your own cup (don't worry, there will be exclusive reusable cups to buy if you don't have one already)."
Change Please founder, Cemal Ezel, adds: "We are so proud to be working with Lush to help promote the use of re-usable cups. Although the cups used by Change Please coffee are 100% compostable and Biodegradable in 12 weeks, this does not go far enough to address the problem of single use disposables. We really feel there should be more public awareness of the ease of using a re-usable cup and this promotion by Lush is a bold statement of the need to make a sustainable difference, now!"
In 2017 Lush launched the Bath Oil Box, a biodegradable box made from recycled coffee cups to house up to four of your favourite Lush bath oils. A collaboration with James Cropper 3D Products, the Lush Bath Oil Boxes are Available in Lush shops nationwide and online.