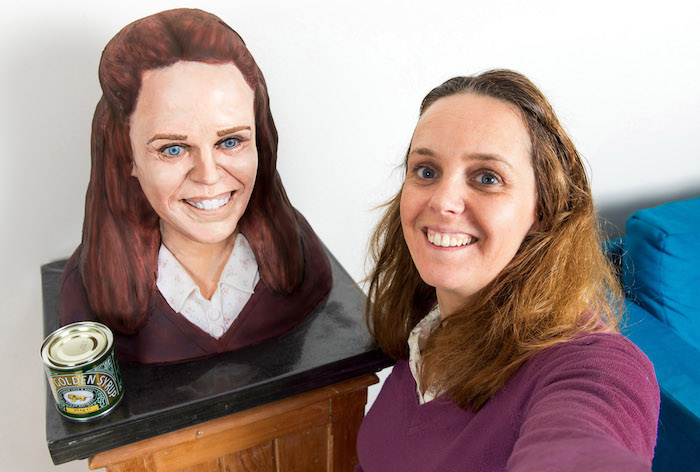 After entering a competition set by leading British syrup brand Lyle's Golden Syrup, Emma Belben of South Petherton, Somerset, has become the proud owner of her very own baked doppelganger. With intricate icing, and bearing a striking likeness to the winner, Emma now has the chance to have her cake and eat it too!
The edible bust was baked by cake artist Lara Mason, creator of the spectacular life-size Harry and Meghan cake seen earlier this year ahead of the Royal Wedding. This time, the talented baker has teamed up with Lyle's Golden Syrup to create yet another show-stopping masterpiece.
The lifelike cake statue took 6 days to make, contains 1.5kg of Lyle's Golden Syrup, 40 eggs, 2kg flour, 1kg of Tate & Lyle Sugar, 2kg Tate & Lyle Icing Sugar and weighs in at a whopping 12kg!
"As a keen cake-maker herself and a former baker at a National Trust property, competition winner Emma said, "I couldn't believe my luck when I found out I'd won the opportunity to have a cake made of myself. I'll be watching the final this week with a slice of my face in hand – how surreal! I'm also a Brownie Leader, and I know the kids are going to love this when I bring it in on Wednesday."