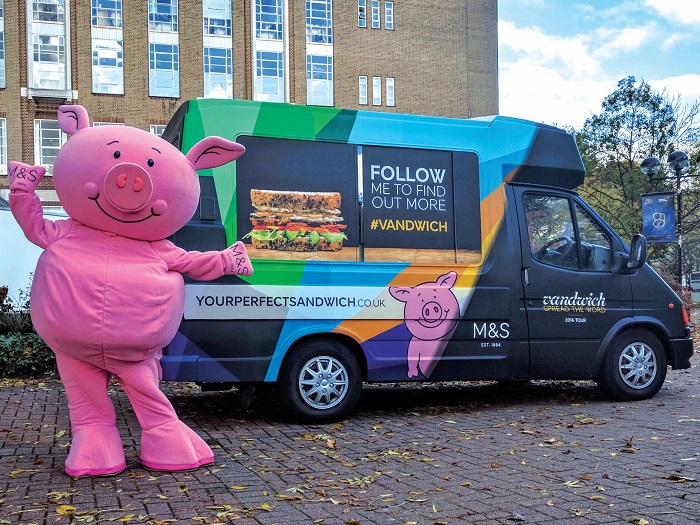 The Marks & Spencers Vandwich tour has been travelling around University campus's in the UK rewarding students with free sandwiches and promoting graduate careers within the company.
Ahead of the promotion students had to vote online for their university to receive the visit. The universities were put head-to-head against another local university to determine a winner.
A branded chiller van, supplied by iMP arrived at the winning campuses across a two week period and handed out 300 free sandwiches and crisps in branded bags. Alongside this, a call to action for the graduate careers site and the 'your perfect sandwich' game inside the bags.
Percy pig was also on campus at the events and students were encouraged to socialise with Percy and take part in some mini challenges. Winners of the challenges received bags of Percy Pigs.
Agency iMP were behind all experiential aspects of the activation including: wrapping of the branded van, management of logistics, training of staff, transport, stock collection, accommodation, event reports and photography.
David Gibbons, director,  iMP comments: "It's been a pleasure to work with the client on this activation; they gave us free reign to plan the most cost effective logistics and gave us the flexibility to make changes throughout the tour depending on which university won the competition.
Definitely one of the most engaging student activities we've worked on so far this academic year with fantastic online traction resulting in #Vandwich trending No.1 in Leeds."