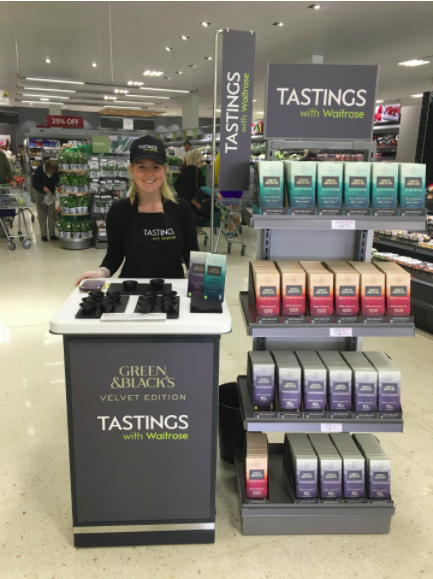 After a successful trial period, Mash Staffing has been appointed by Waitrose to provide Waitrose Taste Ambassadors for their Tastings with Waitrose sampling programme. The six-month trial in 25 stores received positive feedback from brand partners, store staff and customers, and will now begin to roll out across the entire Waitrose estate.
Mash was first appointed in autumn 2017 following a competitive pitch process. Waitrose wanted a staffing partner that could provide high quality, experienced Brand Ambassadors with food hygiene qualifications, and who also met their high expectations in terms of business ethics and standards.
"We're delighted to have been appointed to work with Waitrose on their Tastings with Waitrose programme. Waitrose's partner brands have shown a real enthusiasm for this initiative, and since October 2017 we've successfully activated sampling days for 12 different brands including Green & Blacks, Fever-Tree, S. Pellegrino and Nakd" said Chris Wareham, managing director at Mash Staffing.
The programme has been welcomed by customers, store staff and brand partners, who have all provided positive feedback on both the staff and the experience. Over 293 staffing days, our Waitrose Taste Ambassadors delivered more than 150,000 customer interactions, all accurately recorded using our specialist reporting software M+ Reports.
Waitrose marketing manager brand experience "After an encouraging trial, the programme will start rolling out to more Waitrose stores across the UK. Our partner brands are keen to create sampling experiences for Waitrose customers, and the Waitrose Taste Ambassadors supplied by Mash Staffing have demonstrated their ability to enhance the experience through their professional service and friendly demeanour."