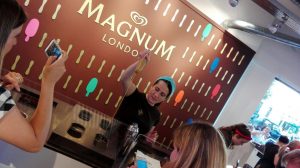 Field sales and marketing agency and reigning FM Agency of the Year McCurrach has formally launched a brand experience agency, Wave.  Wave gives the group a new brand focal point for growing its significant experiential offering.  The new agency also embodies McCurrach's strong reputation for sales accountable brand engagement. Wave's branding celebrates 'Making Waves, Selling More'.
Angus Maciver, McCurrach CEO announced the new agency and the thinking behind it: "Wave is going to help us sell more brand experiences that will excite and engage client brands and their consumers. Wave is all about well-built campaigns, awesome people, value mind-set and exciting interactions. The Wave brand is friendly, very open, it's got a real authentic feel about it and it's very pink. It's about inspiring and captivating, and we want to give people great engaging and exciting brand experiences. "
Wave is a new brand but the Wave team have been operating at McCurrach for some years so the new agency starts with an existing client base and strong reputation. The Wave team has recently undertaken work for brands including a pop-up Pleasure store for Magnum, a café for Quaker Oats, active selling for Microsoft and mystery shopping to help Heineken bars pour the perfect pint.
The announcement about Wave came on the same day as both McCurrach and Wave announced their sponsorship of FMBE's Brand Engagement Week (16-22nd October), supporting the opening event of the week, The Brand Ambassador's Reception (Monday 16th October at Oxo2, London).
Brand Ambassadors at Wave are called Wave-Makers and Wave's association with Brand Engagement Week is set to emphasise the power of shopper engagement when well selected and trained brand ambassadors are in action.
Linda Gallagher, Wave Director, comments: "We know from industry research that as many as 53% of shoppers do not enjoy the shopping experience – they're telling us they're bored and they'd would like to deal with knowledgeable staff who are able to clearly articulate why they should part with their hard-earned cash on 'this' product over its competitor alternative. So, we already know they're actively seeking seeking rich consumer experiences. Wave are here to deliver the best brand ambassadors and product experts who can give shoppers what they want by helping them directly engage with a brand on their level, and truly bring their shopping experience to life. Our team of awesome Wave-Makers are carefully casted and thoroughly trained for each campaign we run to make sure that we deliver quality and memorable experiences that keep them coming back for more, again and again. It's a no brainer!"
Frank Wainwright, Brand Engagement Week director concludes: "The emergence of Wave as an agency is a significant step for McCurrach and we are delighted that they have chosen Brand Engagement Week to support an important best practice message that is central to Wave's ethos.  Well cast and trained brand ambassadors help lead any good brand engagement campaign from the front and our Brand Ambassador's Reception is a celebration of the best brand faces."