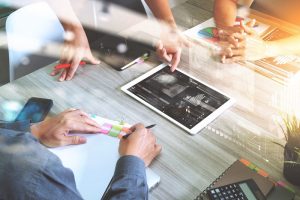 Momentum Instore is launching a new technology package at RDE. Bringing a connected approach to estate management, the new technology acts as a business enabler – allowing retail businesses to cut the admin and focus on the value-add.
The technology combines smart data gathering with realtime reporting to automate project and business management across all aspects of a retail estate, from planning and installation through to inventory management and ongoing site maintenance.
Functioning via desktop or app, the new technology, integrated with the Momentum service under the company's Insite brand, offers intuitive reporting capabilities to streamline the management and control of large and complex projects in one easy to use portal.
The technology offers three distinct solutions:
– Live reporting overview: giving users an instant snapshot of a live project using Project Status reporting technology to bring together data such as store vouchers, digital images, scheduled installations and completions at the touch of a button.
– Proactive inventory management: this asset management tool brings new proactivity to stock and value control, through smart management of store surveys integrated with My Estate inventory management.
– Troubleshooting maintenance issues: as retailers continue to seek the perfect in store customer experience, a proactive maintenance management tool, Retail Response, ensures visual displays at the point of purchase are kept in pristine condition and fully stocked at all times.
Rob Gleave, managing director at Momentum Instore said: "Effective project management depends on getting the detail right – at the most granular level. Creating an exciting in-store experience will not happen without heavy lifting behind the scenes. By providing a data solution that enables a business to slash admin time while collecting all the essential information to ensure seamless store planning, asset management and maintenance."