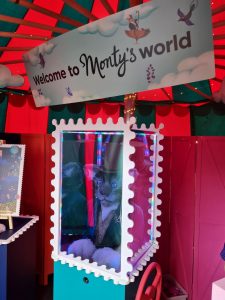 Monty Bojangles, the UK confectionery brand, unveiled an immersive pop-up last month at Birmingham's Bullring shopping centre, delivering a 'once-in-a-bite-time' experience to the masses.
Marking the first time the brand has done anything to this scale, the four-day event enticed consumers with a shareable brand story, immersing them in the magical world of Monty Bojangles. Located at Rotunda Square, home of the iconic Bull statue, the showstopping pop-up delivered a unique multi-sensory sensory experience, designed to delight visitors as they were invited to hear, see, touch, smell and taste Monty Bojangles deliciously shareable selection of chocolatey truffle treats.
Comprising of five sensory stations, with each dedicated to either Cocoa Nib Nights, Orange Angelical, Caramel Haze, Berry Bubbly or the newest addition to the Monty Bojangles range, Pretzel Parade, the full-flavour experience immersed consumers in the brand, taking them on a journey through the Monty Bojangles story.
Featuring sensory boxes with vapour scents of Monty Bojangles Orange Angelical truffle and a bubble machine producing bubbles that unleashed a sample in the air when popped, the event also showcased an engaging Monty's World poster which required special binoculars to see and featured a cocoa bean discovery game when worn. In addition, a 'cat booth' reminiscent of the film 'BIG' invited consumers to turn a wheel, after which Monty Bojangles appeared in all his glory with flashing eyes, music, and lights, delivering attendees a Choccy Scoffy truffle to try.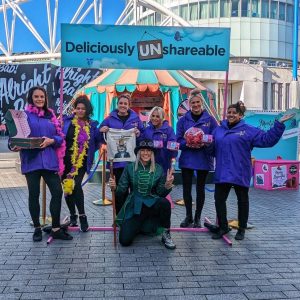 With almost 30,000 of the brand's delectable, individually wrapped truffles sampled across the four days, including the award-winning Choccy Scoffy, Caramel Haze and Orange Angelical flavours, nearly 1,500 truffle boxes were also given away, alongside thousands of other prizes, including golden-prize Green Trunks won on the 'spin to win' located on site. What's more, guests visiting the pop-up also enjoyed the on-site photobooth, with the experiential consistently brimming with queues of visitors all waiting to dress in fun Monty Bojangles props and have their photograph taken, ready for sharing on social media.
Sally Fenton, Marketing Manager at Monty Bojangles, says, "It's been a pivotal year for us at Monty Bojangles, following us reaching a company milestone of £10M value sales. Reflective of this, we're continuing to invest in the brand as we grow, and our recent experiential showcases this, as our biggest event to date. A crucial part of our media plan, the pop-up delivered exactly what we wanted it to achieve, bringing Monty Bojangles to the masses, whilst driving product trial and raising brand awareness. A stand-out success, it was fantastic to see our audience having a hands-on experience with us, as they dove taste buds first into the magical Monty Bojangles world, a particularly memorable brand experience for all who attended."
Supported with the brand's animated OOH advertisement showcased across various digital 6 sheets around the event area, the brand is further investing in the West Midlands with radio scripts, OOH 6 sheets outside Tesco stores and 6 sheet roadsides. Furthermore, geotargeted digital ads will also be running near participating Tesco locations.