The Natural History Museum reveals a new-look Hintze Hall which features a 25.2 metre blue whale skeleton suspended from the ceiling and diving into the space. This is part of the museum's biggest transformation it its 136 year history which includes hundreds of new specimens which have been chosen to celebrate the wonder and beauty of the natural world. Ten choice specimens have also been arranged in ground floor alcoves – known as Wonder Bays – including a 4.5 billion-year-old meteorite and a Mantellisaurus skeleton.
The new installation provides event guests with the opportunity to dine directly underneath the whale skeleton, complete with lighting display designed by White Light.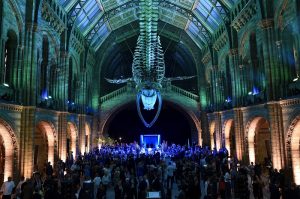 The launch event invited 1,100 guests including royalty, secretaries of state and industry leaders as well as celebrities to celebrate the re-opening of Hintze Hall. Guests were treated to an immersive experience. The guest journey included a mist curtain into Hintze Hall, a sea scape and caterers Rhubarb providing cocktails and food. The 'Giraffe's Playground' area offered vegetarian delights whilst the 'Dinosaurs Dessert Station', in which the smouldering volcano is edible.
The Museum's scientists were on hand to answer guests' questions and encourage them to engage with the new collections in the Wonder Bays. Speeches were delivered by the Museum's Chair, Director and special guests, including Sir David Attenborough. The evening was punctuated by a specially commissioned musical piece performed by a 14-piece orchestra from the London Contemporary Orchestra, a solo performed by Sir Thomas Allen and culminated by a light show created by White Light.
Robert Wetherell, head of venue hire, said: "This is a hugely exciting development for The Natural History Museum and we cannot wait to see the look on our guests' faces when they see the Whale for the first time, it is an awe-inspiring new centrepiece for the space.
We're looking forward to welcoming back existing clients as well as a new wave of event visitors. The renovation gives us the opportunity to provide a host of fantastic new event experiences, including our newly launched 'Talks and Tours' packages and dry hire availability as we look ahead to the  Christmas party season."