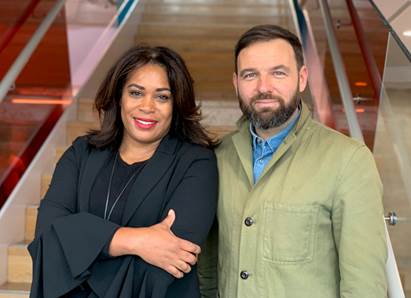 Ogilvy announces the appointment of Daniel Fisher as new Global ECD across the Unilever portfolio, and Nadja Bellan-White as Global managing director for Unilever, focusing on Dove.
Fisher will work in a WPP-wide capacity, based at Sea Containers in London and will have a primary focus on bringing fresh thinking to the Unilever business. He will leverage the full breadth of the WPP network to deliver multi-disciplinary creative solutions to the Unilever portfolio of brands.
In addition, he will be leading special creative projects within the Ogilvy network.
He will report into Piyush Pandey, chief creative officer for Ogilvy Worldwide and Joe Sciarrotta, deputy chief creative officer for Ogilvy Worldwide.
Fisher is one of the most awarded creatives in the industry, having won 6 Grands Prix and 11 Gold Lions at Cannes for his work on brands such as John Lewis, Shelter, Harvey Nichols and The Sunday Times through agencies such as Leo Burnett, The&Partnership and adamandeveDDB, where he was Deputy ECD.
For the past year he has also been consulting direct to clients such as Google and The People's Vote, for whom he operated as creative adviser.
As well as conventional comms work for brands, Fisher has won awards for his work overseeing branding projects, conceiving retail concepts, curating art exhibitions, and designing retail spaces.
Piyush Pandey, chief creative officer, Ogilvy: "We are delighted to have someone of Dan's calibre come into Ogilvy to work on such a significant business to us. He has an impressive track record of creating multi-disciplinary work that transforms business. We look forward to working with Dan to deliver some exciting new ideas."
Daniel Fisher, Global ECD, Ogilvy: "When one of the world's greatest advertisers looks you in the eye and tells you they want to put creativity at the top of their agenda, it's a bit of a no brainer. But the chance to work with someone as smart and talented as Nadja made my decision even easier. I can't wait to work with her and the rest of the team at Ogilvy and WPP to start inventing the kind of future facing, culture defining, game changing creativity they are looking for."
Alongside Dan's appointment, Ogilvy also announces Nadja Bellan-White Global managing director for Unilever, focusing on the Dove business. She has built her career over the last twenty years working with brands like American Express, IKEA, Coca-Cola, Bharti Airtel, RBS Citizens, Diageo, Countries of Kenya, Gabon, and LG Electronics. In 2014, she became CEO of Ogilvy Africa, before coming to London in 2017 as EVP for Global Brands across EMEA, and later chief client officer for EMEA. Her global experience across consulting and holistic marketing solutions makes her a unique partner to brands and leaders alike.
Nadja is a member of AdColor (US) and recognised as an AdColor Legend, as well as Advertising Women of NY (AWNY). She was also named a "Woman to Watch" by the Female FTSE Board Report in the UK, and recognised by Savoy Magazine as one of the Most Influential Women in Corporate America.
Nadja Bellan-White, Global managing director for Unilever, Ogilvy: "We join the Unilever team at a unique time, the business is poised for the next phase of its creative future, and I am excited to help lead the charge. In unity with Daniel, I look forward to seeing what the combined minds a girl from Harlem and a guy from Newcastle can do to provide a fierce leadership that puts the heart into the brand."
The new leadership announcement comes after Toby Hoare was appointed as Global Client Leader of WPP's Unilever business.