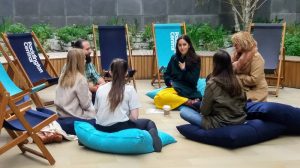 Penguin Living is bringing its books and expert authors to the brand new outdoor reading space at Paddington Central. They are running their first ever pop-up bookshop every day from the 3rd – 7th April 2017.
Every lunchtime Penguin Living will be hosting a free workshop between 12 and 2pm with a different Penguin Living author, from how to do the perfect squats, and planks, to healthy eating and from mindfulness to spoon-carving.
Visitors can browse and buy a selection of Penguin Living books designed to help live life better and each day has its own theme with Penguin Living offering a variety of books around each day's subject:
Monday -Fit, Healthy & Strong
Tuesday – Life-Hacks, at Home, Work and Play
Wednesday- Eat Well, Eat Wise
Thursday – A Question of Sleep
Friday 7th April- Something For the Weekend
Each day begins with a "Breakfast for the Mind" session, complete with free taster pot porridge from Alex Hely-Hutchinson's book 26 Grains. The lunchtime workshops are free to join and pre-booking is not necessary.