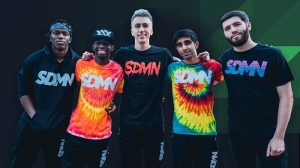 The partnership sees PHR become Upload's first headline sponsor, inviting YouTubers and their fans to 'Taste Freedom' via PHR's experiential marketing activity. This includes full branding rights, a presence in the main gaming hall at the event and a competition for fans to meet the celebrated video gamers, The Sidemen.
Attended by thousands of millennials each year, Upload 2017 is set to bring together the biggest gaming, music and comedy creators in the UK on Saturday 9th and Sunday 10th September 2017 at Tobacco Dock in London.
Throughout the partnership, PHR will give fans exclusive access to behind the scenes footage plus interviews with The Sidemen, generating  content that will be seeded out on PHR's channels, as well as to The Sidemen's 31 million combined YouTube subscribers and 7 million Twitter followers.
Over the next 14 weeks the partnership, created by communications agency Tangerine, will be brought to life on PHR's channels, with support from agencies Lexis and Amaze.
Sonya Mooney, digital campaigns manager at PHR commented: "This sponsorship is part of our ongoing commitment to take our new look, new menu and new vibe to the next level by promoting freedom from every day routine to millennial audiences.
"Upload attracts thousands of freedom-seeking individuals who we'll engage with, by working closely with Sidemen to produce content that truly resonates with the consumer.
"Being the first casual dining brand to sponsor Upload will also increase brand appraisal among the online community."
The Sidemen will also take over the Strand Hut on Wednesday 28th June, kicking-off the partnership with an exclusive VIP event.
This is the latest instalment of PHR's 'Taste Freedom' campaign, which inspires key audiences to re-evaluate PHR as a dining option by raising awareness of its ongoing restaurant refurbishment programme to drive footfall. Over 200 Huts have already been transformed.