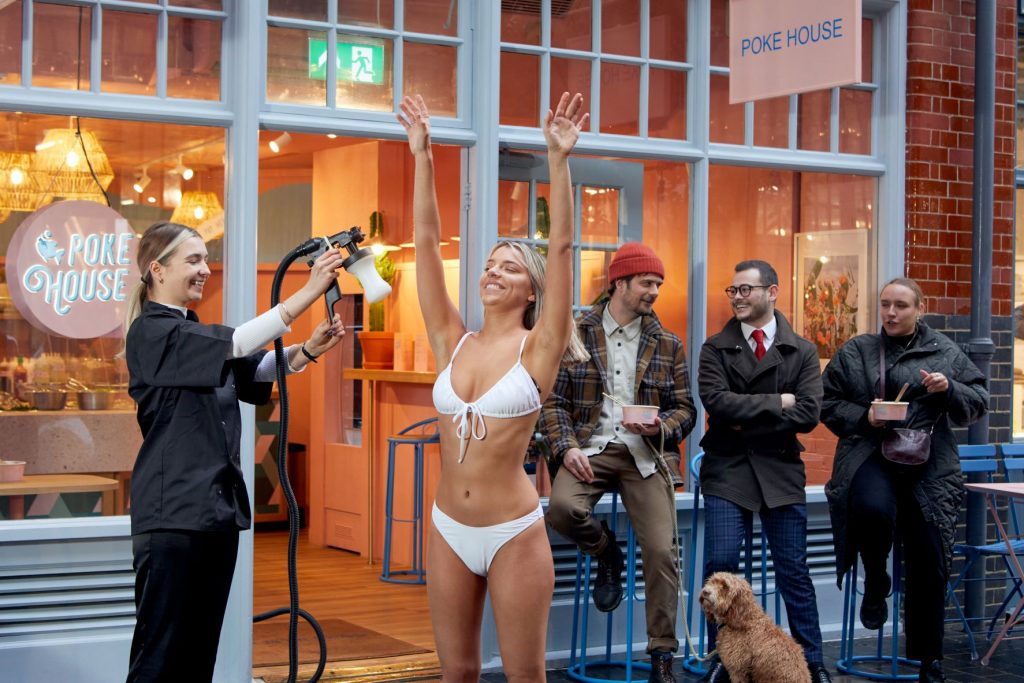 Europe's most famous poke restaurant brand, Poke House, is on a mission to cure those January blues by inviting Brits down for a free spray tan when they buy a poke bowl.
On Thursday January 20th, in 'the most depressing week' of the year, Londoners can give both the month of January and themselves a 'glow-up' courtesy of a free Cali-Glow spray tan whilst they wait for their Poke House poke bowl.
Customers can get a full body tan worth up to £50 at Poke House Spitalfields, London and for anyone in a rush – or those who don't fancy whipping their clothes off – a 'Hands and Face' option is also available to show-off to friends, family and colleagues alike.
The famous poke restaurant brand – which launched in the UK in September 2021 by offering customers a free Cali tattoo with orders – is putting on the offer to celebrate its acquisition and rebranding of Ahi Poké stores across the capital. This year Poke House can now be found across London in Portobello Road, Victoria, Bloomberg Arcade, Bank and Spitalfields (where the offer is available).
Poke House customers will be transported to California for an endless summer, courtesy of a multisensory experience – filled with Cali-House music, San Diego art, cacti, neon lights and fresh, healthy, vibrant food – so what better way to continue repping the Cali-lifestyle than having a Cali-Glow tan this winter?
The internationally renowned poke bowl chain, which has amassed fans across Europe including Italy, France, Spain and Portugal, now has six sites in London. 10 further restaurants are planned in the capital with 65 across the UK, allowing Brits to experience Poke House's notorious Californian soul and Hawaiian taste.
Vittoria Zanetti, Co-founder & Executive Director, Poke House said:
"As a brand, we're always thinking of exciting new projects that we can do in order to give back to our customers as they're at the heart of our business.
"We wanted our customers to feel a little Californian boost this winter and importantly, put a smile on people's faces by making them feel good about themselves'
"The support and feedback we've received since opening our first UK site in Portobello in September has been overwhelming. We're so happy with how the UK launch has gone and we can't wait to welcome our customers back to the store to receive a Cali-Glow spray tan and a poke bowl."
It's not just the Californian look and feel that make Poke House stand out from the crowd; it's the taste, which has captured hearts and taste buds across Europe. Dressings are curated in-house from a closely guarded secret recipe and every bowl is made with the freshest ingredients, delivered daily Poke House source all fruit and veg from hand-picked suppliers.
The ever-evolving menu includes a core range of House Bowls selected by public demand including Sunny Salmon, Spicy Tuna and Vegan Bowl. Every bowl is made with the freshest ingredients, with all greens and fruit and veg (from avocados to mango) delivered daily from local and trusted suppliers.