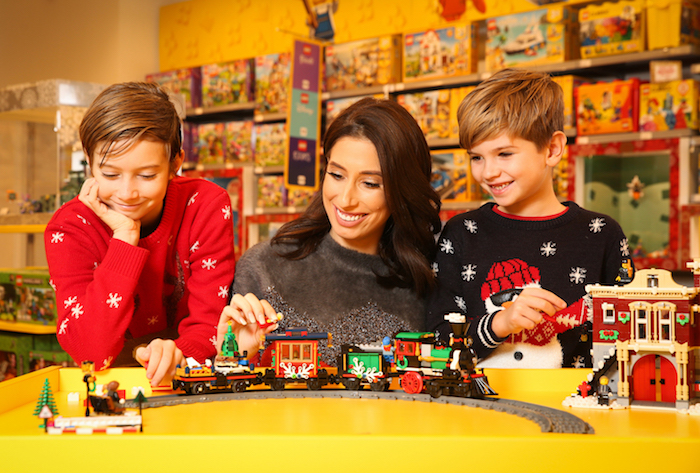 On the 8th and 9th of December, Lego Group will let families step into a world of Christmas wonder at the Lego Imaginarium – a unique space where the brick brings imagination to life.
Marking an end to celebrations for the 60th anniversary year of the Lego brick, the Lego Imaginarium is located at Observation Point on London's Southbank.
The free entry experience combines Augmented Reality and physical play, letting children and adults come face-to-face with digital brick-built dragons, pirates, fairies and more, whilst using the endless creative play possibilities of real Lego bricks to build their wildest wishes.
It will be unveiled by celebrity mum Stacy Solomon (with kids Zach, aged 10 and Leighton, aged 6) who said:"My kids love getting creative with Lego, and it always amazes me when I see what they've built after being let loose on a box of bricks! We are all excited to visit the Lego Imaginarium this weekend, take part in some building with fans and experience an AR world filled with Lego wonder and creativity."
The Imaginarium opens as figures from Lego's Play Well report – a survey of 13,000 parents and children across nine countries – show that 96% of parents believe play is a key factor in helping kids develop their creativity.
93% of parents say construction toys such as Lego bricks help their child be creative and 'Creativity' has risen to become amongst the most sought after of the essential life skills. Studies by the World Economic Forum highlight the rapid change in the perception of creativity as an essential skill, moving from 10th place on the list of Top 10 Skills for success in 2015 to projected 3rd place by 2020.
 Marius Lang, head of marketing for Lego UK & Ireland, said: "Families have been getting together and building with Lego bricks for 60 years and Christmas is a special time when imagination and creativity can be brought to life in a thousand ways.  The enduring appeal of the Lego brick is its ability to become anything kids or adults want – to let them build whatever they can dream of through its endless creative play opportunities. That's why we're building the Lego Imaginarium this weekend, it's a chance for people to step into creativity and imagination with Lego and bring their wildest wishes to life in brick form!"
PrettyGreen and Mischief Pr are behind the activation.