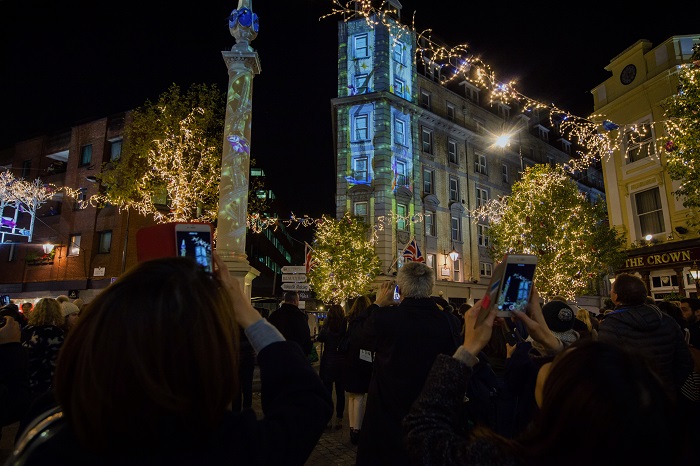 Shaftesbury, along with integrated agency Sister London and lighting designers James Glancy Design, have teamed up with Projection Artworks  to inject an added wow factor into the big Christmas light switch-on at the West End's shopping and dining destination, Seven Dials, courtesy of a magical 3D projection mapping show.
Debuting at 6pm on Thursday 17 November, the projection mapped show brings Christmas to life in the streets of Seven Dials by visualising a festive forest, as described in a heart-warming seasonal poem that was penned exclusively for Seven Dials.
Running after dark at 30-minute intervals, the animated projection sequence transforms the streets and buildings of Seven Dials into an enchanted woodland, resplendent with all its charming inhabitants – gentle rabbits, birds, bears, stags, wolves, foxes, badgers and hedgehogs – to create the perfect 2016 Christmas build-up for shoppers.
The show begins when light floods the area and buildings slowly appear to augment into a snow-kissed Christmas forest with peeping animals and twinkling lights. Classic 3D projection mapping techniques create the illusion that the buildings' geometry slowly morphs and this apparent dynamic movement allows woodland scenes to miraculously form within architectural openings.
Projection Artworks integrated the area's physical environment by cleverly projection mapping highly stylized ornate trees and branches to buildings. The company also mirrored James Glancy's spectacular Christmas light design by adding plenty of twinkling, elegant lights to the projection animation to echo the area's real street décor.
Shoppers who attended the switch-on event received 20% discount across 100 brands in Seven Dials' diverse shopping and dining district. The seven streets were closed to traffic to allow for activity on the thoroughfares and to fill the area with live music from 10-piece brass band, The Old Dirty Brasstards. On Monmouth Street, free wreath making and s'mores were available with an enchanted beauty bar for festive nails and fashionable braids on Neal Street in addition to a pop-up alfresco winter bar on Earlham Street.
Shaftesbury's head of group marketing and communications, Karen Baines, said: "We are excited to be launching Christmas in Seven Dials with a unique 3D mapping show and creating a truly spectacular and memorable moment for visitors with advanced technology in the West End."
Projection Artworks' head of outdoor, Kelly Eagle, said: "Christmas light switch-ons create spectacular and memorable moments. Going one step further by bringing the environment to life through animated projection mapping creates an added digital layer of magic. It's a savvy way to push the seasonal feel good factor to the absolute max at what is a crucial time for retailers."