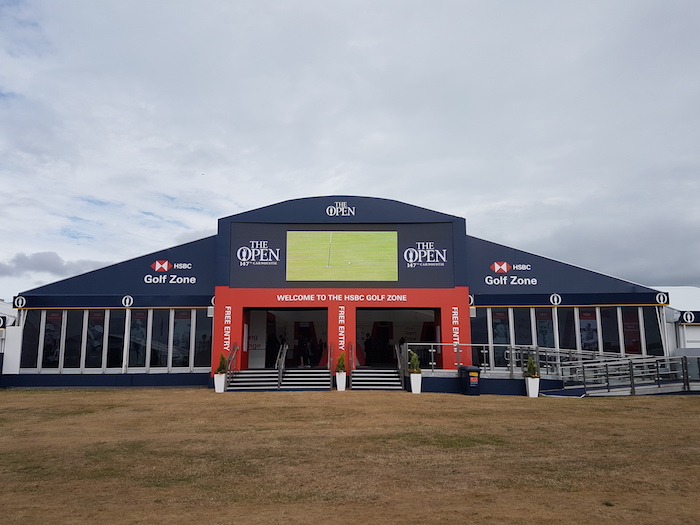 14 years after the company made its first foray into events at the 2004 Open fan experience experts, Provision Events (PVE), has reported record attendance and overwhelmingly positive feedback for the series of experiential activities it designed, built and delivered in the HSBC Golf Zone at this year's Open Championship.
After seeing the large scale fan experience come together at the Open, Nick Clemens, founder and managing director of Provision Events, coemments "Provision Events was born at the 2004 Open in Troon where me and founding partner Konrad handed out thousands of leaflets to fans in car parks and queueing for buses and trains. We got 1 enquiry! 14 years later and we've designed and produced an incredible experience that was the highlight of the entire fan experience at the Open. I'm so proud of the work of the team here and of how far PVE has come."
With the help of branding partner CSM Live, PVE created the activation for HSBC and IMG. Within the 9600 sq ft area, PVE created seven different activities for fans to enjoy. From team chipping and team drive challenges, through nearest the pin, 'Street Golf', individual long drive, memorabilia from past Carnoustie Opens and an 18thhole putting challenge that created a picture of the participant putting for the Championship on the 18thgreen, the fan experience provided entertainment for all level of golfing abilities.
Konrad Brochoki, founding partner at PVE, added, "From those beginnings in Troon we've been to the Olympics, The Ryder Cup, the Presidents Cup, Wimbledon, Silverstone and the Hong Kong 7's, but to come back here to the biggest event in world golf and to be providing the main fan experience for the event is just beyond what we could have hoped. The Open is so special for me and Nick and I couldn't be happier with the experience we've provided for HSBC, IMG and most importantly, the fans."