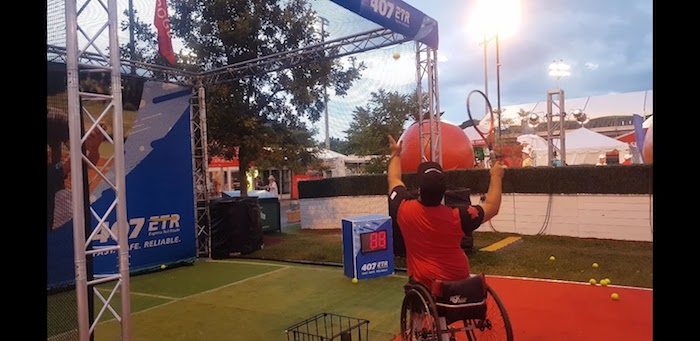 As Rafael Nadal served up a feast of fantastic tennis to take his 80th career title this week, Provision Events made sure that tennis fans at the ATP World Tour Rogers Cup could enjoy their moment in the spotlight off the court, while Rafa enjoyed his on it.
PVE provided a specially designed 'Speed of Serve Challenge' for visitors to York University in Toronto so they could compare their skills with those on display in the stadium. The experience was hugely popular and provided a new experience for local tennis fans.
Simon Jones, head of sales & business development at PVE comments: "We ran a similar experience on Regent Street in London this summer which was a great success, but having seen the way that the avid tennis fans in Toronto took to the challenge, it's clear that a love of the game gives participants the competitive edge with their speed of serve! In all seriousness, this crowd were tennis fans through and through and to see so many of them enjoying the experience was really satisfying."
The fan experience at the Rogers Cup showcases PVE's ability to engage sports fans utilising its own in-house design and technology and the expertise of its partners. This is just one of a series of high profile fan experiences for which PVE has been commissioned this year to entertain and engage visitors at sporting events all over the world.