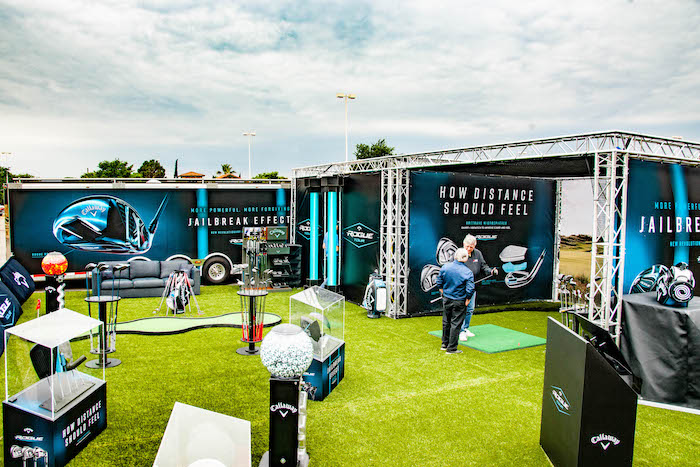 Provision Events (PVE) has announced its partnership with Callaway Golf for the global golf giant's unique coast to coast U.S. Rogue Tour.
Visiting over 18 retail venues across the U.S. the Callaway Rogue Tour Experience uses Provision Events expertise to bring the brand's latest technology to life. With a series of interactive areas that are transported, constructed and managed by PVE at each venue, golfer's across the U.S. are being given the chance to understand and experience the performance benefits of Callaway products in a unique retail setting.
Taking an interactive experience of this size on a nationwide Tour of retail venues is a unique project undertaken by Callaway. Kirsten Everett, senior retail marketing manager at Callaway, explains, "The Rogue Tour is an ambitious project that we're incredibly proud of. To help golfers' across the U.S. get fit, experience the performance benefits of Callaway products with fun, interactive experiences while supporting our retail partners. We asked PVE to create something that was unique and reflected the quality and technology that characterizes Callaway as a brand, and they have done an amazing job of bringing that brief to life."
The Rogue Tour activities include reception and entrance areas, flanked by Callaway's iconic Jailbreak bars, that take customers through to a hitting bay with golf simulator where they can try out the latest Rogue products and get custom fit for any Callaway products. For those who want to see behind the tech, PVE has constructed a 3D science area with 'exploded' versions of Callaway clubs and balls. And finally, the short game isn't neglected, as the latest Odyssey putters are available for test on the putting green.
Simon Jones, head of sales and business development at PVE delighted with the results so far on the tour, "We're so pleased with the way that the Rogue Tour has come together. We're a couple of stops in to the nationwide Tour but you can already see the enthusiasm that is generated by the customers' interaction with the brand and the products. For us to see the aims of the Tour coming to life after all the hard work Callaway and ourselves have put in is incredible, Callaway are a fantastic brand to work with."
The Callaway Rogue Tour continues across the U.S. over May, June, July, into mid-August will be stopping at retailers across the country.