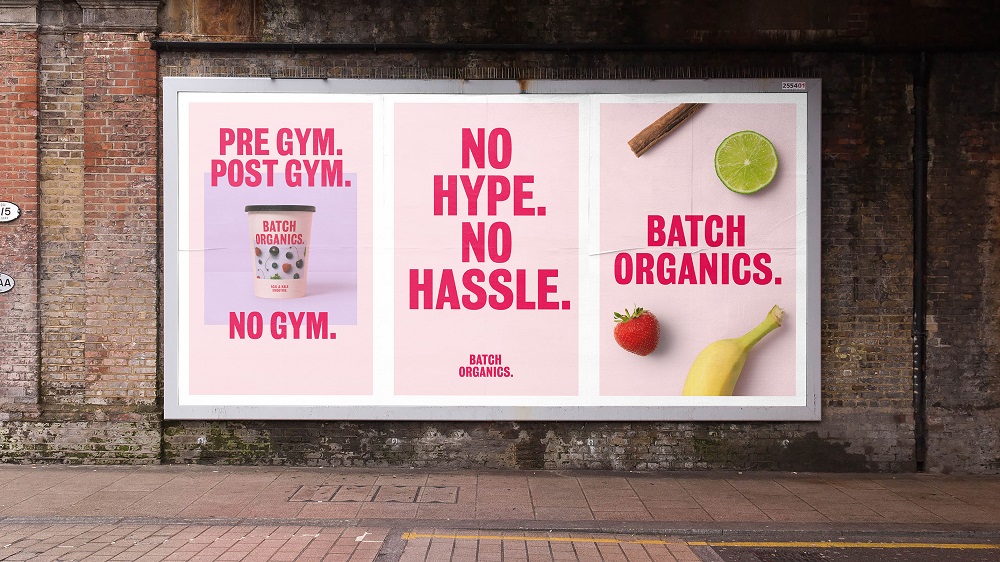 Integrated branding agency Ragged Edge has ensured Batch Organics  stands out in a noisy category with the no nonsense brand proposition 'Straight Up'. The rebrand has been brought to life through a new name, logo, colour palette, brand typography, visual identity and tone of voice.
The health and wellness market is crowded by 'miracle cures' and unrealistic diet plans. People are tired of fuss, fads, and digging through layers of marketing fluff to get to the truth of what brands are offering them. Charles Owen, CEO, Batch Organics, says: "The health category is incredibly crowded, so we knew we needed to do something really different to cut through".
Market research revealed Batch Organics' audience was already engaged in healthy eating. "They know what's good for them, they just need quicker, easier ways of maintaining healthy lifestyles," says Max Ottignon, co-founder, Ragged Edge. "So we reimagined Batch Organics as the fuss-free, 'nothing but the truth' option for people on the go. It's a brand that's refreshingly frank and 'Straight Up'."
Natural Blender became Batch Organics, a no frills moniker that heroes the product's organic goodness. Visually, the handwritten type and fiddly logo conventions of the category were avoided. Instead, a bold, clean brand typography and wordmark create a fresh look that is unmistakably Batch Organics.
Max Ottignon says: "Food brands often package products in different colours for different flavours. To make it stand out, we gave Batch Organics a single colour it could own across a range of products. Verbally, an assertive tone of voice helps bring the new brand attitude to life. Pithy, straight-talking headlines communicate a 'tell it like it is' ethos."
Ragged Edge created a suite of packaging for the new brand, including a complete range of smoothies, breakfast bowls and milk alternatives. In addition, they worked closely with the Batch Organics team to bring the brand to life on and offline.
Charles Owen says: "Ragged Edge's ability to define a highly differentiated strategy and apply it to a powerfully disruptive identity was invaluable. They've helped us create a brand with genuine stand out in a market where almost everything has been tried already."