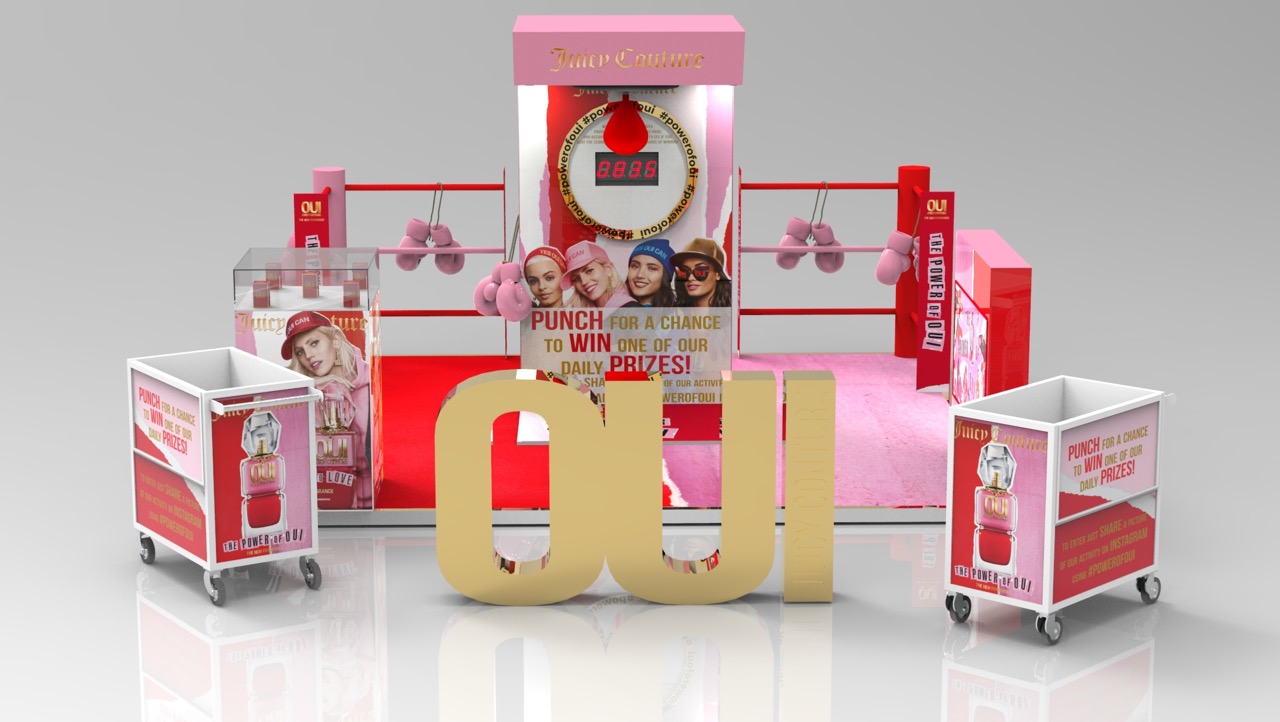 Revlon have appointed Jackanory to develop and implement engaging experiential activations to drive trial and purchase of Juicy Couture's brand new fragrance pillar OUI Juicy Couture.
Tasked with bringing to life the OUI Juicy Couture concept centred around female empowerment and encouraging women to say Yes to things they believe in, Jackanory have created an eye-catching and engaging sampling experience that will tour shopping centres nationwide.
A punch ball is central to a boxing ring-style stand where shoppers are encouraged to have a go at the 'Yes Oui Can' Power Punch game to experience the empowering and playful force of the new brand. Shoppers will be invited to beat the score with one punch and then encouraged to share their experience on Instagram using the hashtag #PowerOfOui for a chance to win Oui Juicy Couture merchandise.
Laura Byron, brand manager of Oui Juicy Couture said "We needed an activation that would truly resonate with our target market, leverage our positive brand statements and encourage trial and purchase consideration. We're confident that Jackanory's #PowerOfOui activation will do just that and help to generate strong word of mouth around the new fragrance."
Jo Curtis, co-founder of Jackanory said:"We're delighted to be working with Revlon to kick start the story of their new OUI Juicy Couture fragrance.  We love the playfully provocative and unstoppable nature of the brand and can't wait to see the concept come to life through our shopping centre activations. By leveraging the positive OUI statements through our activity, we hope to drive trial and purchase of the fragrance, all the while underscoring the importance of female empowerment."
The #PowerOfOui activity will be taking place in shopping centres nationwide from 24thAugust to Sunday 9thSeptember.
Find out more about Jackanory in our online directory