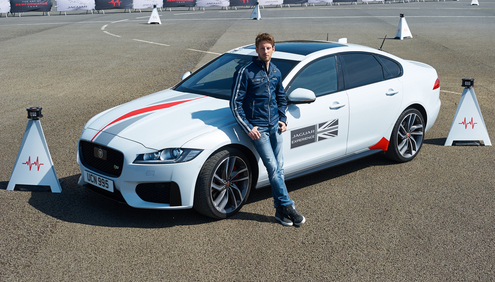 Formula 1 star Romain Grosjean has set the standard for drivers to beat by completing a unique and fun test of agility and skill. Romain put a Jaguar XF through its paces around a new 'Smart Cone' course to mark the start of Jaguar's 'Art of Performance' tour.
The global tour, which starts in Europe this month with over 200 locations, gives existing and potential customers the opportunity drive the Jaguar range in a series of activities. The innovative Smart Cone course will feature at some of the tour locations to measure driver skill and exploit the cars' precise, agile handling.
Grosjean was the first to try the Smart Cones, which use wireless technology to randomly illuminate pairs of cones to set out a different route each time, notifying drivers of their next target with only a moment's notice.
It's been likened to the sports agility training game 'Batak' and is just as unpredictable, with a million different potential options. As a car is driven, its precise co-ordinates are measured in relation to the cones and sent to a central computer system 100 times per second to track its performance. Every driver gets a score report that takes into account the model of car used, the weather and the driving conditions.
Romain Grosjean, who races for the Haas F1 Team, said: "The lightweight, agile-handling XF behaves like a true sports car, so I could push my performance to the limit.
My tip for Smart Cones is to stay completely alert and engage your peripheral vision, as the randomness of the course is perhaps the biggest challenge. Trust me, it's a lot harder than it looks, and I'd welcome you to try to beat my score of 49032."
Over the next 12 months the The Art of Performance tour will visit more than 600 venues in 46 countries, welcoming more than 100,000 guests to an unforgettable Jaguar driving experience. Each one will include a selection of diverse activities, ranging from the Smart Cone challenge and dynamic track and road drives to wet and dry extreme condition challenges.
This brand experience will involve F-TYPE Convertible, F-TYPE Coupé, XJ, XE, XF and the latest addition to the Jaguar family, the F-PACE. All feature Jaguar's lightweight aluminium architecture.