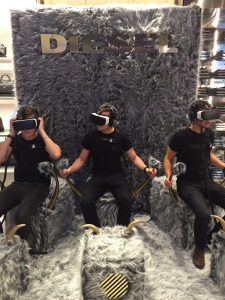 In response to a rapidly changing landscape, creative, digital and retail marketing agency Savvy, have announced the launch of a new live brand experience division 'Savvy Live'.
The new division at Savvy launches at a time when the agency is more than ever delivering live brand experiences for global brands (including campaigns for adidas, Britvic and Diesel) as an integral touchpoint in the connected shopper path to purchase that can create memorable live experiences to drive emotional connections, shape behaviour and influence purchase whilst delivering on scale.
"The way shoppers consume media and interact with brands has changed considerably due to advancements in technology," says Taj Sur, Business Director at Savvy. "Consumers are seeking deeper brand experiences and opportunities to generate social media currency. At the same time retailing is evolving at a rapid pace with smart devices now able to engage and direct shoppers from points of influence to points of purchase. This means we need to look beyond traditional channels to influence shoppers.
In short, consumers are no longer satisfied with just hearing or seeing a brand's message. Today, it's the actual experiences we have with a brand that define whether we connect with it or not."
Sur concludes: "At Savvy we have over 10 years' experience in providing excellence in execution in live brand experiences delivering varying scales of activation from instore events and sampling through to retail pop-ups, brand installation and large scale public events/festivals and roadshows. Our Savvy Live team are execution experts who take away the complexity of the process for clients to achieve scale and sustainable results that live beyond the live activation and deliver maximum ROI. For us, it's all about making sure that our campaigns deliver results that resonate with our clients' audiences, bringing their brands to life."