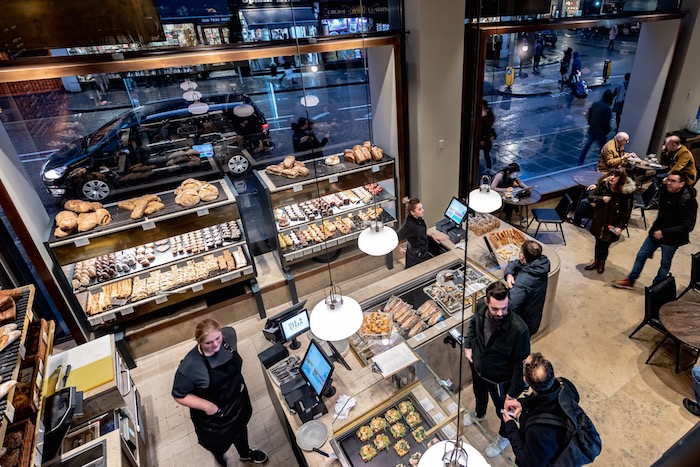 Shaftesbury has announced the opening of Ole & Steen, the Danish bakery, with the brand launching its 3,000 sq ft London flagship at 51 Charing Cross Road.  The prime corner unit is part of Central Cross, Shaftesbury's £15m, 48,000 sq ft mixed-use development at the heart of London's West End.
Spread over two floors, the new bakery has space for 63 covers.  Alongside Ole & Steen's range of sweet Danish favourites, customers can choose from an all-day menu including breakfast items, such as traditional Danish skyr and bircher muesli pots with fruit toppings, and a lunch menu with Danish open rye bread sandwiches and focaccias.  Reflecting Central Cross's position linking Theatreland with Covent Garden, Ole & Steen is also open in the evening for pre-theatre drinks and food.  The all-day offer features single estate coffee, as well as a small but carefully crafted wine and beer list.
The bakery, founded by Ole Kristoffersen and Steen Skallebæk, first opened outside of Denmark in 2016, just down the road in Haymarket.  The new Central Cross flagship benefits from high levels of pedestrian traffic from neighbouring Leicester Square Tube and Tottenham Court Road Tube stations.
Commenting on the news, Julia Wilkinson, head of group restaurant strategy at Shaftesbury, said: "We are delighted to welcome Ole & Steen's flagship to this prime location, which connects Theatreland and Soho to Covent Garden.  The Scandinavian brand complements the area's diverse food and beverage offering, and highlights Shaftesbury's ongoing commitment to creating destinations that excite the senses and inspire discovery in London's West End."
Camilla Hansen, head of openings at Ole & Steen, added, "It's a really fantastic opportunity for us to open our latest store at Central Cross on Charing Cross Road.  Being situated right in the heart of the West End was a huge draw for us, and the location benefits from its connections and multi-cultural, engaged audience.  We are thrilled to offer our loyal customers another store to enjoy, and of course to welcoming new customers to experience our Danish bakery."