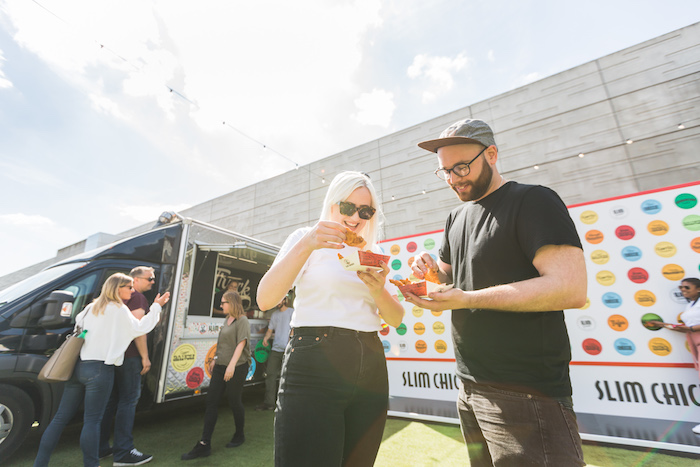 The UK's latest fried chicken eatery, Slim Chickens, has unveiled the world's first dippable billboard, in a bid to help Londoners get saucy. The billboard, in situ at Boxpark Shoreditch on Wednesday, 9thMay, contained 12 Slim Chickens sauces, including Garlic Parmesan, Mango Habanero and Sriracha Garlic.
The Slim Chicken Tender Truck was on site to hand out free chicken tenders for anyone who fancied a dip in the capital's new billboard. On-site Slim Chickens security ensured no one broke the cardinal rule of double dipping.
Kalila Tiffany, general manager of Slim Chickens, comments: "Since launching in London last month, we've had thousands of people raving about our range of awesome sauces, so we thought what better way to get even more people tasting the sauce(s) of our success than with this delicious dippable billboard! We're from the USA, where you can't swing a chicken without hitting a billboard, but we've never seen one as tasty as this.
Having been a part of Slim Chickens since the start in Arkansas and seeing the UK embrace us over here has been incredible.Chicken fans of the capital unite, and get dipping."