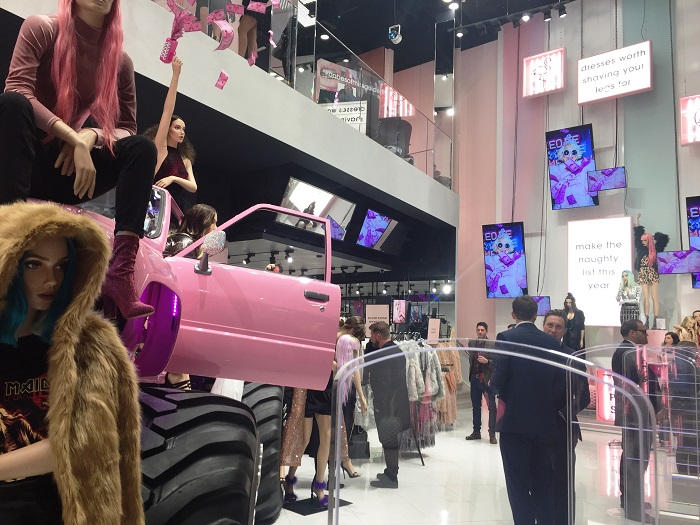 Smart LED, a subdivision of audio visual supplier Smart AV, has delivered a full digital signage installation for the opening of Missguided's new flagship store.
Missguided, founded by Nitin Passi in 2009 as an online women's fashion retailer, launched its first physical store in Westfield Stratford in late Novemeber.
Smart LED installed two giant 3.9mm high resolution LED walls to fit a bespoke frame developed by shopfitters Goodman Hichens, giving the effect that the LED walls are floating above each bank of tills.
Further, the audio visual equipment supplied and installed by Smart LED includes a total of 31 additional screens dispersed throughout the store, ranging from 22" up to 75", all supplied with bespoke mounting solutions.
The entire digital signage network has been installed by Smart LED using SignStix, its content delivery partner. SignStix's cloud-based digital engagement platform will allow Missguided to manage and update all of the store's digital content in real-time, as well as create scheduled campaigns, from any internet-connected device.
"Missguided is known for its glossy visuals and stellar content so it's incredible to see this infused into its brand new flagship store with help from the latest audio visual technology" comments Smart LED Managing Director Ryan Walker. "It's been an absolute pleasure to work with the team and their stakeholders – our entire company is proud of the project and we look forward to providing Missguided with the most cutting-edge AV solutions for years to come."
Nitin Passi, founder and CEO of Missguided commented: "We were keen to showcase the volume of digital content we create throughout the store and the screens supplied by Smart LED played a big part in helping to create the immersive atmosphere we were aiming for."
The Missguided store opened to the public on Wednesday 23rd November 2016.