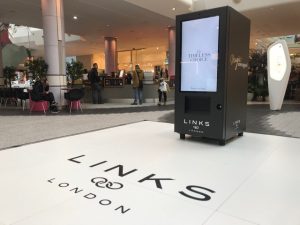 Major brands have been busy utilising Social Vend's interactive technology.
To promote the launch of the new O2 One Plus 5T mobile device, Social Vend's interactive vending machines were at locations across the UK. (2 x London – Box Park / 1 x Slough / 1 x Manchester)
The machines were each running a custom developed skill based memory game and contained a brand new One Plus 5T to be won.
In order to play the game participants posted to twitter or instagram using the hashtag #TechsBestKeptSecret.
They then played a skill based memory game on the vending machine, the game was challenging and designed to only reward truly exceptional participants.
When a participant won; a 'congratulations' message appeared and the device was dispensed from the machine.
If the participant did not win; a 'thanks for playing' message was be displayed and they will be given a discount voucher by the O2 Angles as a runners-up prize.
Social Vend also implemented an eight-day activation in Westfields, White City for Links of London.
Social Vend's designed and built an interactive vending machine to drive in store engagement, increase footfall and encourage mailing list sign-ups.
Participants entered their email on the vending machine for their chance to win Links of London jewellery, a £500 gift voucher or branded merchandise.
The activation saw over 2563 machine interactions over the duration of the activation