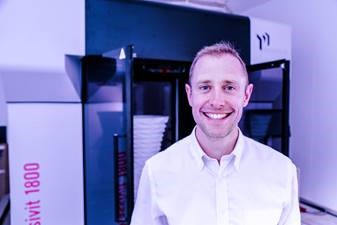 UK companies can now explore the potential of digital manufacturing using 3D printing, 3D scanning, CNC machining and 3D design, following the launch of Fluxaxis, a bleeding edge £1m+ start-up incubated by creative manufacturer Stage One.
Intent on redefining the 'future of making' with the world's most sophisticated suite of technologies, Fluxaxis can 3D print at large scale for almost any application, faster than ever before.
Edwin Stokes, director of Fluxaxis, argues that while no one is certain what the future will look like, there is little doubt that it will be printed: "Designers, marketers, architects, manufacturers, retailers, film and theatre companies. Everyone is exploring how 3D print can enrich their productions. By removing technical barriers we are enabling a new creative and fast-track approach, uninhibited by scale and intricacy."
To challenge its capabilities, demonstrate its potential and explore the intersection of art and industry, Fluxaxis has launched a competition in collaboration with York Mediale to find an artist in residence.
The residency programme, set to run between September 2017 – February 2018, is seeking an artist or collective with experience in critical making and 3D printing. The selected artist(s) will receive a £5,000 artist fee and have access to Fluxaxis' equipment and expertise to develop ideas and practices. The final results of the residency will be showcased at the inaugural York Mediale in 2018 and toured internationally.
Fluxaxis draws on Stage One's unrivalled ability to manifest big ideas and breath-taking designs in physical form: "The best machines mean nothing if you don't know what to do with them," adds Edwin. "We combine the technology of the future with Stage One's experience in creative production to open up new opportunities for businesses both in the UK and globally. Prototypes and production parts that, until now, have been too complex in form to manufacture, can now be made quickly and precisely using a range of cutting edge equipment, all under one roof."
Stage One is a creative construction and manufacturing company working within the architecture, theatre and events industries. Collaborating with some of the world's most creative minds, including Zaha Hadid, Thomas Heatherwick and RSH+P, it uses digital technologies alongside traditional skills to create complex forms. Among Stage One's notable successes include the construction of each of the Serpentine pavilions since 2009, which combine innovative design, engineering and technology to deliver astonishing impact on a global platform.
Visit the Fluxaxis website to learn more about the future of 3D printing or read the blog to learn more about the competition with York Mediale to find an artist in residence.